Schnitzel BLTs
Temps des Fêtes 2014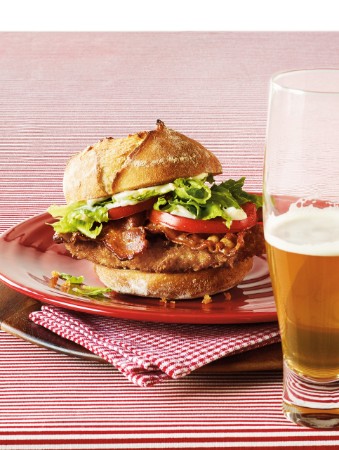 Schnitzel BLTs
Temps des Fêtes 2014
BY: Marilyn Bentz-Crowley
Two crispy components, smoky bacon and schnitzel, are matched with tomatoes and lettuce for a delightful variation on a BLT sandwich. To make fresh white bread crumbs, simply whirl bread, including crusts, in a food processor until crumbs form (Italian, sourdough or French bread make the best crumbs). Or simply purchase panko—one caveat, the ground dried bread crumbs found in many supermarket bakeries are not suitable for truly crispy schnitzel.
1 cup (250 mL) mayonnaise
Finely grated zest of 1 lemon
1 pkg (500 g) naturally smoked bacon
8 pieces schnitzel- or scaloppini-cut veal, pork, chicken or turkey (see TIP)
⅔ cup (150 mL) flour
¾ tsp (4 mL) cayenne
3 eggs, lightly beaten
3 to 4 cups (750 mL to 1 L) fresh white bread crumbs or 2 to 2½ cups (500 to 625 mL) panko
8 to 10 tbsp (120 to 150 mL) peanut or other vegetable oil
1 loaf sourdough or country bread, cut into
16 slices, or 8 large sandwich rolls
3 to 4 firm-but-ripe tomatoes, sliced
8 to 10 leaves romaine lettuce, torn,
or 3 to 4 cups (750 mL to 1 L) baby greens
1 Stir mayonnaise with lemon zest; cover and refrigerate until needed.

2 To cook bacon, place oven rack just above centre of oven.

3 Preheat oven to 375°F (190°C). A jelly-roll pan about 15 x 10-inches (38 x 25-cm) can accommodate about 7 oz (210 g) of bacon. Line pan with foil for easy cleanup. Bake in batches as needed.

4 Place bacon slices snugly against each other, but not overlapping by much. Bake 10 to 12 minutes. Then rearrange strips as needed to evenly cook; drain off fat. (If making ahead, drain bacon on paper towels at this point; place flat with slices separated using waxed paper in a plastic bag, and refrigerate or freeze until needed. Then continue baking with cold or frozen bacon.)

5 Bake another 5 to 10 minutes or more or until lightly golden and crisp to your liking. (Bacon differs widely on baking time due to slice thickness and moisture content.) Drain on paper towels.

6 Meanwhile place cutlets between pieces of heavy-duty plastic wrap or use a plastic freezer bag. Pound cutlets using a kitchen mallet's flat surface (not side that is grooved) or the flat bottom of an iron skillet until between ⅛ to ¼ inch thick (3 to 5 mm). Season one side of cutlets generously with sprinkles of salt.

7 Place flour mixed with cayenne in one shallow dish such as a pie plate, eggs in another, and a heap of bread crumbs in a third.

8 Dip cutlets, one by one, first into flour (shake off any excess), then into eggs (lift and let excess drain back into plate) and finally into the bread crumbs, pressing into surface. As coated, lay on a wax-paper-lined tray. Use more crumbs as needed. (Schnitzels can be covered and refrigerated for up to a half a day, or frozen. If frozen, sauté right from freezer, adding a few extra minutes.)

9 Heat 1 to 2 tbsp (15 to 30 mL) oil in a large skillet over medium heat until shimmering hot. Add 2 to 3 pieces of schnitzel. Shake pans lightly so oil is distributed. Sauté 3 to 4 minutes or until bottom is golden brown; turn and brown the other side, swirling pan and adding more oil as needed. Transfer to a paper-towel lined baking platter or baking sheet; keep warm while frying more. Repeat with remaining cutlets.

10 Toast bread or rolls; place schnitzel on bread. Top each with some bacon, tomato and generous dabs of lemon mayonnaise. Arrange lettuce overtop; top with another slice of bread. Serve with baby greens tossed with lemon vinaigrette and garnished with avocado slices.
Makes 8 sandwiches, 6 to 8 servings

TIP Butchers and meat counters often offer thin cuts of pork, veal, chicken or turkey for schnitzel, especially in winter. A good substitute is thin-cut fast-fry pork chops or thin-sliced chicken breasts (or horizontally cut medium-size chicken breasts with tenders removed into 2 thin pieces). The total weight of meat or poultry should be 1¼ to 1¾ lbs (625 to 875 g).
SHARE