Savoury Bread Pudding with Fiddleheads and Mushrooms
Early Summer 2005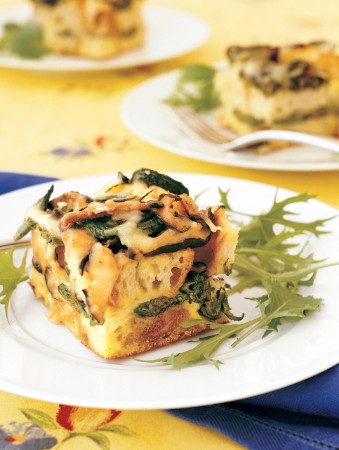 Savoury Bread Pudding with Fiddleheads and Mushrooms
Early Summer 2005
BY: Jennifer MacKenzie
Perfect for brunch or lunch or a side dish for dinner, the fresh spring flavour of fiddleheads, mushrooms and herbs are enveloped in a delicate custard. A crusty baguette will give a nice texture to the pudding. Look for the artisan-style baguettes rather than the soft variety. Use whichever type of mushrooms you prefer - a mixture of exotic mushrooms is nice. This recipe can be doubled easily and is terrific for a crowd. Make it in a 12-or 16-cup (3- or 4-L) shallow baking dish and increase the baking time to about 1 hour
Butter or nonstick spray
3 cups (750 mL) fiddleheads
2 tbsp (25 mL) butter
2 cups (500 mL) sliced mushrooms
Salt and freshly ground pepper
5 eggs
1 cup (250 mL) milk
½ day-old crusty baguette, cut in ½-inch-thick (1-cm) rounds (about 6 oz/175 g)
1 cup (250 mL) shredded Oka or fontina cheese
2 tbsp (25 mL) chopped fresh herbs (tarragon, basil, chives, chervil)
1. Butter an 8-cup (2-L) shallow baking dish.

2. Rub brown papery scales off of fiddleheads and rinse several times under cold running water. Drain well and trim off ends. Melt butter over medium-high heat in a large skillet. Add mushrooms and sauté for about 5 minutes or until softened. Add fiddleheads and sauté for about 3 minutes or until fiddleheads start to turn bright green and mushrooms are browned. Allow to cool. Season with salt and pepper.

3. Whisk together eggs, milk, ½ tsp (2 mL) salt and ¼ tsp (1 mL) pepper. Place half of bread slices in baking dish, overlapping as necessary. Sprinkle with half each of the vegetables, cheese and herbs. Pour over half of the egg mixture. Top with remaining bread slices and pour over remaining egg mixture. Press down bread with a spatula to soak top layer of bread with egg. Sprinkle with remaining vegetables, cheese and herbs. Cover and refrigerate for at least 2 hours or overnight.

4. Preheat the oven to 350ºF (180ºC).

5. Uncover pudding and press down again with a spatula. Bake for about 45 minutes or until knife inserted in the centre comes out clean and top is golden. Serve hot or warm.
SHARE