Sausage & Smoked Cheddar French Toast with Maple-Glazed Apples
Winter 2013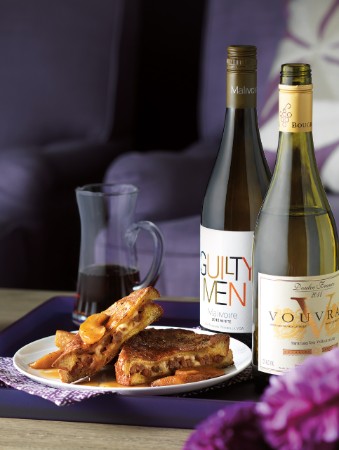 Sausage & Smoked Cheddar French Toast with Maple-Glazed Apples
Winter 2013
BY: Julia Aitken
Here, a simple breakfast favourite gets all dressed up for dinner with a filling of sausage and smoky cheese and a topping of sticky maple apples. Don't skimp on the sausage—buy the best you can find.
1 tbsp (15 mL) lemon juice
2 large apples
¾ lb (375 g) good-quality country-style sausage (2 large)
3 eggs
1/3 cup (80 mL) milk
1 tsp (5 mL) ground allspice
½ tsp (2 mL) freshly ground black pepper
¼ tsp (1 mL) kosher salt
8 slices day-old egg bread, ½ inch (1 cm) thick
1⅓ cups (330 mL) shredded smoked cheddar, about 5 oz (150 g)
¼ cup (60 mL) unsalted butter
2 tbsp (30 mL) maple syrup
Additional maple syrup for serving (optional)
1 Add lemon juice to a large bowl of cold water. Peel and core apples and cut into ½-inch (1-cm) wedges, dropping them into water as you go. Set aside.

2 Heat a large nonstick skillet over medium heat. Remove sausages from their casings and crumble into skillet. Cook, breaking up meat with edge of a spatula until crumbly and thoroughly cooked, 6 to 8 minutes. Tip sausage into a sieve set over a bowl and let cool slightly. Wipe out skillet and set aside.

3 In a large shallow dish, beat together eggs, milk, ½ tsp (2 mL) allspice, pepper and salt. Set aside.

4 Lay 4 bread slices in a single layer on work surface. Sprinkle half of cheese over bread slices, spreading right to edges of bread. Top cheese with sausage, dividing evenly (you may have to pile sausage up slightly). Top sausage with remaining cheese, spreading cheese right to edges. Top filling with remaining bread slices, pressing down firmly to seal.

5 Working with 2 sandwiches at a time, lay sandwiches in egg mixture, turning carefully to coat on both sides and tucking back any sausage that falls out of sandwiches. (It's easiest, albeit messy, to use your hands for this.)

6 Preheat oven to 400°F (200°C).

7 Have ready a large baking sheet. In large nonstick skillet, melt 1 tbsp (15 mL) butter over medium heat. Cook dipped sandwiches for 1 to 2 minutes per side, turning carefully, until golden. Remove sandwiches to baking sheet.

8 Wipe out skillet, then repeat with remaining sandwiches and egg mixture, using an additional1 tbsp (15 mL) butter to fry them.

9 Transfer baking sheet to oven and bake until French toast is browned and crisp, about 8 minutes.

10 Meanwhile, wipe out skillet. Drain apples and pat dry. Heat remaining butter in skillet over medium heat. Add apples and remaining allspice and toss well. Drizzle with maple syrup and increase heat to medium-high. Cook, stirring and tossing gently, until apples are tender, sticky and golden brown, about10 minutes.

11 To serve, cut each French toast sandwich in half diagonally and divide among 4 dinner plates. Spoon maple-glazed apples over and around French toast and serve with additional maple syrup (if desired).
SHARE