Salted Double Dark Chocolate Cookies
Holiday 2020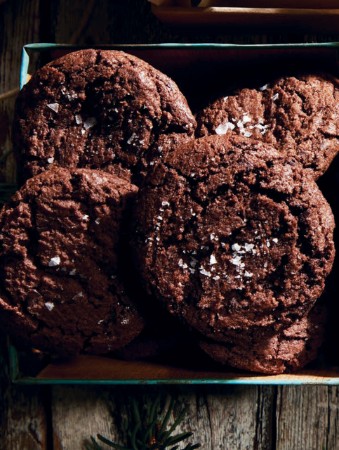 Salted Double Dark Chocolate Cookies
Holiday 2020
BY: Michelle Lucas Larving
A high-quality, thin bar of chocolate works best mixed into the dough, as it distributes more evenly giving you the most chocolate in every bite. And while the centres of the cookie may seem very soft while pulling them from the oven, don't be tempted to overbake as they continue to set while they cool.
1½ cups (375 mL) all-purpose flour
1/2 cup (125 mL) Dutch-processed cocoa powder
1/2 tsp (2 mL) baking powder
1/4 tsp (1 mL) baking soda
2 tsp (10 mL) flaked sea salt, divided
1 cup (250 mL) dark brown sugar, lightly packed
3/4 cup (175 mL) granulated sugar
3/4 cup (175 mL) unsalted butter, at room temperature
1 egg
1 tsp (5 mL) vanilla
1 bar (100 g) 78% cacao chocolate, finely chopped
1. Arrange racks in top and bottom thirds of oven. Preheat to 350°F (180°C). Line 2 baking sheets with parchment.

2. Sift flour with cocoa powder, baking powder and soda in a small bowl. Using your fingertips, lightly crush 1 tsp (5 mL) flaked sea salt, then add to same bowl and set aside.

3. Using a stand mixer fitted with the paddle, beat sugars with butter on medium-high speed until light and fluffy, 2 to 3 minutes. Scrape down sides of bowl, then add egg and vanilla until almost combined. Add flour mixture and continue to mix on medium-low speed just until a dough comes together. Add chocolate until combined.

4. Using a small cookie scoop that's 1 tbsp (15 mL) in size, scoop dough on prepared sheets, 2 inches (5 cm) apart. Sprinkle with remaining 1 tsp (5 mL) salt.

5. Bake in top and bottom thirds of oven, switching sheets halfway through, until edges are beginning to set, 10 to 12 minutes. Let cool on baking sheets for 5 minutes. Transfer to a rack and let cool completely, 20 more minutes. Repeat with remaining dough.
SHARE