Salsify with Oysters and Oyster Mushrooms in a Sparkling Wine Sauce
Autumn 2006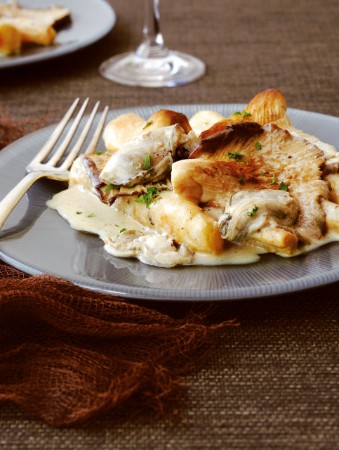 Salsify with Oysters and Oyster Mushrooms in a Sparkling Wine Sauce
Autumn 2006
BY: Jennifer McLagan
This recipe plays on the common name for salsify-oyster plant-by combining it with oysters and oyster mushrooms.
12 salsify roots
Salt
2 tbsp (25 mL) butter
2 tbsp (25 mL) olive oil
12 large oyster mushrooms
Freshly ground black pepper
½ bottle (375 mL) dry sparkling wine
18 shucked oysters and their juices
¾ cup (175 mL) whipping cream
¼ cup (50 mL) chervil leaves for garnish
1. Rinse and trim salsify and then cut in half crosswise. (The roots often exude a sticky liquid). Place the pieces in a large saucepan of salted water and bring to a boil. Reduce the heat and simmer for 15 to 20 minutes or until tender (test as you would a potato).

2. Drain, then rinse the salsify under cold water. Peel off the skins and cut any thick pieces in half lengthwise and set aside.

3. Place a large frying pan over medium heat, add half the butter and oil. When the butter begins to foam, add the mushrooms and sauté until browned, about 5 minutes. Transfer the mushrooms to a dish and keep warm. Add the remaining butter and oil to the pan. When the butter melts, add the salsify, season well with salt and pepper and sauté until lightly browned. Transfer the salsify to a dish.

4. Pour the sparkling wine into the pan and bring to a boil, deglazing the pan by scraping the bottom with a spoon. Continue to boil until the wine is reduced to ½ cup (125 mL), about 5 minutes.

5. Strain the oysters and set them aside, add their liquid and the cream to the pan. Whisk and bring to a boil, then lower the heat to medium, add the salsify pieces and continue to cook until the sauce is slightly thickened.

6. To serve: using a slotted spoon place the salsify on 6 warm appetizer plates. Add the oysters and the chervil leaves into the remaining sauce and stir so the oysters warm through. Spoon the oyster herb sauce over the salsify and garnish with the mushrooms.
SHARE