Rustic Mortadella Ciabatta
JANUARY 2017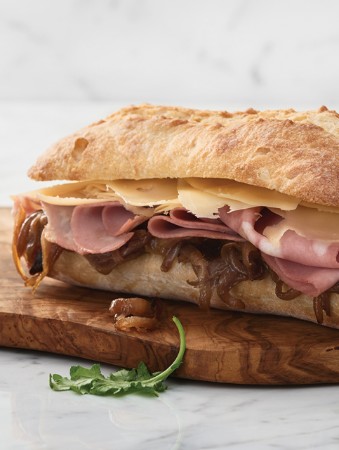 Rustic Mortadella Ciabatta
JANUARY 2017
BY: Giacomo Pasquini
Look for the PDO label, certifying products such as the meat and cheese in our sandwich, are high-quality, and produced and packaged in Italy.
2 onions
1 tbsp (15 mL) each butter and olive oil
Pinch salt
4 ciabatta buns
1 lb (500 g) Mortadella Bologna PGI, sliced
½ lb (250 g) sliced fontina, preferably PDO
1. Cut each onion in half lengthwise, slicing through root end. Place onions, cut-side down, on a cutting board, then thinly slice into semicircles.

2. Heat butter and oil in a medium-sized frying pan over medium-low heat. Add onions, then sprinkle with salt. Cook, stirring often, until caramelized, about 30 minutes.

3. Slice buns in half. Layer bottom halves with caramelized onions, mortadella and fontina. Sandwich with tops. Delicious served with fresh mixed greens.
SHARE