Rum-Spiked Pecan & Pear Chocolate Upside-Down Cake
Autumn 2017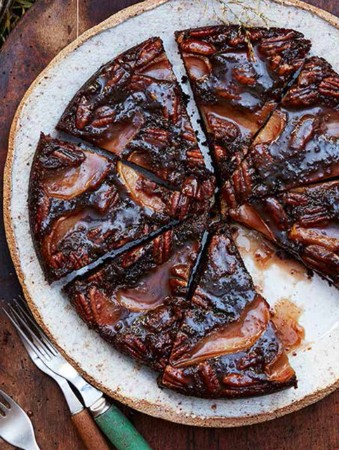 Rum-Spiked Pecan & Pear Chocolate Upside-Down Cake
Autumn 2017
BY: Signe Langford
We've used luscious Ontario pecans in this rustically elegant cake, which has its roots in France. It can be made in a traditional cake pan or in a 10-inch (25-cm) cast iron skillet—though inverting the cake from cast iron can be a bit of a workout. If you prefer not to cook with rum, no worries, just leave it out; no need to adjust the recipe.
MAPLE-PECAN TOPPING
⅓ cup (80 mL) butter, plus a little more for greasing the sides of the pan
½ cup (125 mL) packed dark brown sugar
½ cup (125 mL) maple syrup
¼ cup (60 mL) dark rum (optional)
1 cup (250 mL) Ontario pecan halves or pieces
2 firm pears, cored, sliced into 8 wedges about ½ to 1 inch (1 to 2.5 cm) thick
CAKE
1¼ cups (310 mL) all-purpose flour
½ cup (125 mL) cocoa powder
1 tsp (5 mL) baking soda
½ tsp (2 mL) fine sea salt
½ cup (125 mL) room-temperature butter
1½ cups (375 mL) sugar
3 free-run eggs
1 cup (250 mL) buttermilk or plain kefir
1 tsp (5 mL) pure vanilla or maple extract


1 Preheat oven to 350°F (180°C).
2 Place a 10-inch (25-cm) cake pan—nonstick is best—over very low heat. Add the butter, brown sugar, maple and rum; stir to melt and combine, about 30 seconds to 1 minute. Remove from heat.
3 Add the pecans and stir to distribute evenly.
4 Arrange the pear wedges in the pan by nestling them down into the buttery sugar and pressing them down between the nuts; push the nuts out of the way with the pear slices.
5 Set the pan aside to cool enough that you'll be able to butter the sides. Make the batter while the cake pan cools.
6 Into a large bowl, sift together the flour, cocoa powder, baking soda and salt; set aside.
7 Add the butter to the bowl of a stand mixer or large bowl; with electric beaters, beat on medium-high until lightly whipped; about 30 seconds to 1 minute.
8 Add sugar and beat for about 30 seconds; add the eggs, 1 at a time, beating all the while. Beat the butter, sugar and eggs until well-creamed and fluffy, 2 to 3 minutes.
9 Reduce beater speed to low and add about one-third of the dry mixture; keep beating to combine. Add about half of the buttermilk or kefir and continue to beat on low. Continue adding dry and wet ingredients and blending in between additions. In the last round, add the vanilla or maple extract and beat to fully combine, about another 30 seconds or so. Batter should be smooth.
10 Butter the sides of the cooled cake pan, then pour the batter in. Pop into the oven and bake for about 45 to 55 minutes. The toothpick test won't work, as the bottom of this cake will be wet, so lightly touch it in the centre; it should spring back.
11 When done, remove from oven and run a knife all around the edge of the pan and immediately invert the cake onto a plate. Lift the pan off, and don't panic if anything is stuck, a little patch job will go unnoticed. Serve slightly warm or let cool. A dollop of whipped cream or a scoop of ice cream— rum raisin or vanilla—is brilliant.
SHARE