Rum Pineapple Swizzle
Début de l'été 2016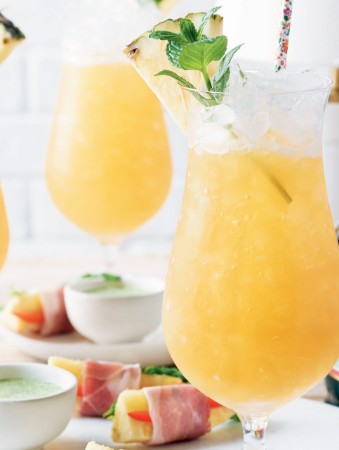 Rum Pineapple Swizzle
Début de l'été 2016
BY: Eric Vellend
This icy libation takes the winning combo of aged rum and pineapple juice and knocks it out of the park with cinnamon syrup and Angostura bitters. If your blender can't handle crushing ice, wrap the cubes in a clean kitchen towel (that was washed with unscented detergent and fabric softener) and bash with a wooden mallet or rolling pin.
2 oz aged rum, preferably El Dorado
12-Year-Old Rum
2 oz pineapple juice
¾ oz strained fresh lime juice
¾ oz Cinnamon Syrup (recipe follows)
1 dash Angostura bitters
Pineapple wedge and mint sprig to garnish
Straw
1 Fill a chilled 14- to 16-oz Highball, Hurricane or pilsner glass with crushed ice. Place in freezer while you prepare the drink.

2 Pour rum, pineapple and lime juices, Cinnamon Syrup and bitters into a cocktail shaker. Add 3 ice cubes. Shake for 5 seconds. Strain into prepared glass. Garnish with pineapple wedge and mint sprig. Serve with straw.

CINNAMON SYRUP

Simple Syrup perfumed with cinnamon, this sweetener has a wide range of uses at the bar in addition to being added to rum. It's also terrific in Calvados-based drinks and surprisingly good paired with reposado tequila.

⅔ cup (150 mL) water
⅔ cup (150 mL) granulated sugar
5 cinnamon sticks, each 4 inches (10 cm), broken into smaller pieces
1 In a small saucepan, bring water, sugar and cinnamon to a boil over medium-high heat, stirring to dissolve sugar. Remove from heat and let stand 1 hour.

2 Strain syrup into a glass jar with lid. Refrigerate up to 1 month.
SHARE