Rosemary and Polenta Bread Sticks
Automne 2001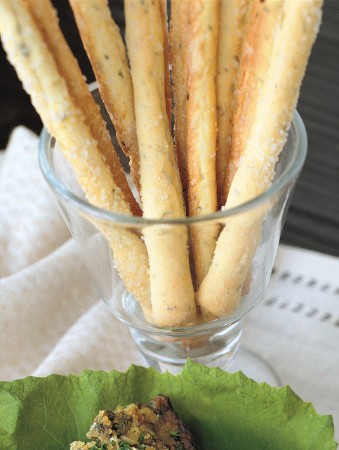 Rosemary and Polenta Bread Sticks
Automne 2001
BY: Lucy Waverman
Served often as part of the antipasti course, these also go very well with soup. We cut them 1-inch (2.5-cm) thick, but thinner ones are also very appealing.
1 1/2 cups (375 mL) all-purpose flour
1/2 cup (125 mL) cornmeal
2 tsp (10 mL) baking powder
1 tsp (5mL) granulated sugar
2 tbsp (25mL) chopped fresh rosemary
1 tsp (5mL) salt
1 tsp (5mL) coarsely ground pepper to taste
1/4 cup (50 mL) cold butter
1/2 cup (125 mL) milk
2 egg whites, lightly beaten
1 egg beaten with a pinch of salt


Garnish
Sea salt
Coarsely cracked pepper
1. Preheat oven to 450°F (230°C).

2. Combine flour, cornmeal, baking powder, sugar, rosemary, salt and pepper in a large bowl. Cut in butter until mixture resembles coarse meal. With a wooden spoon or fork, stir in milk and egg whites until incorporated.

3. Transfer dough to a lightly floured surface and knead for a minute. Roll out into a 10 x 12-inch (25 x 30-cm) rectangle. Trim edges. Brush pastry with egg wash and sprinkle with sea salt and pepper.

4. Cut twelve 1-inch (2.5-cm) strips. Place on ungreased cookie sheet and bake for 12 minutes or until tops are golden.
SHARE