Rose Petal Cake
Début de l'été 2007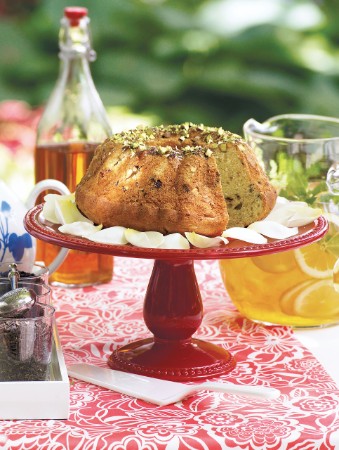 Rose Petal Cake
Début de l'été 2007
BY: Lucy Waverman
This recipe is from my friend Judy Staffman whomakes it for special occasions. Rosewater is available at Indian and some health food stores. You must use organic rose petals for this cake if you want to eat them - they are available at eco flora Toronto and Whole Foods Markets in Toronto and Oakville. However, I found them a bit bitter and used the little packages of organic flowers available at high-end grocery stores. You can also omit the flowers in the cake as the rosewater gives lots of taste. Use rose petals just for garnishing.
½ cup (125 mL) unsalted butter
1 cup (250 mL) sugar
4 eggs, separated
1 tsp (5 mL) grated lemon rind
1 tsp (5 mL) grated orange rind
1 tsp (5 mL) rosewater
2¼ cups (550 mL) flour
1½ tsp (7 mL) baking powder
1 tsp (5 mL) baking soda
½ tsp (2 mL) salt
1 cup (250 mL) yogurt or sour milk
½ cup (125 mL) flowers, snipped into pieces
½ cup (125 mL) chopped pistachios


Glaze
¾ cup (175 mL) sugar
¾ cup (175 mL) water
2 tsp (10 mL) rosewater


Garnish
Roses or rose petals
1. Preheat oven to 350ºF (180ºC).

2. Butter and flour a 2 qt (2 L) tube pan.

3. Cream butter and sugar with an electric mixer until light and fluffy. Add egg yolks, lemon and orange rind and rosewater.

4. Sift together flour, baking powder and soda and salt in a separate bowl. Beat in one third of flour mixture into butter sugar mixture, then half of yogurt. Repeat ending with flour mixture. Stir in flowers.

5. Whip egg whites until stiff and fold gently into cake mixture.

6. Sprinkle half of pistachios into bottom of tube pan, add half of batter, sprinkle in remaining pistachios and finish adding batter, scraping bowl well. Bake for 40 minutes or until top of cake springs back to touch.

7. Bring sugar, water and rosewater to a boil and boil for 8 minutes or until mixture has thickened slightly.

8. Unmould cake and brush with glaze while still warm. When cake has cooled, brush again all over. Place on a serving platter, pistachio-side up. Decorate with rose petals.
SHARE