Rosé Raspberry Gelée
Début de l'été 2012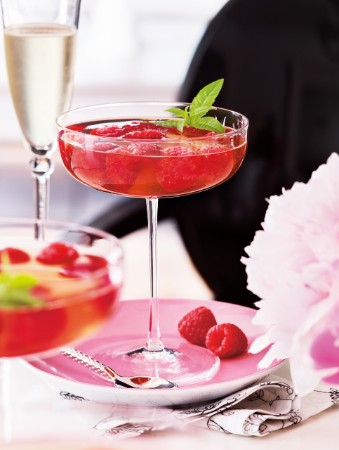 Rosé Raspberry Gelée
Début de l'été 2012
BY: LeeAnne Wright
Although wine was never one of the ingredients, this recipe is inspired by the lovely fruit-filled aspic salads of my youth. This adaptation is perfect for a light ending to a summer meal. Change up the fruit as the season progresses so you are always using fruit at its peak of perfection. Vanilla bean paste is a super handy product with a concentrated flavour that contains vanilla bean seeds. Substitute 1/2 tsp (2 mL) of vanilla extract if paste is not available.
1 tbsp (15 mL) unflavoured gelatin (¼-oz envelope)
1 cup (250 mL) rosé wine
¼ cup (60 mL) sugar
1 cup (250 mL) white grape juice
1 cup (250 mL) club soda
1 tbsp (15 mL) fresh lemon juice
1 tsp (5 mL) vanilla bean paste
2 cups (500 mL) raspberries


1 Sprinkle gelatin over wine in a saucepan and let stand 1 minute to soften. Bring to a simmer, add sugar and stir until both are dissolved.

2 Remove pan from heat and stir in grape juice, soda, lemon juice and vanilla. Divide berries evenly among 6 coupe Champagne glasses. Pour in wine mixture and chill in refrigerator until just set, about 1 hour.



SHARE