Root Vegetable Home Fries
Holiday 2006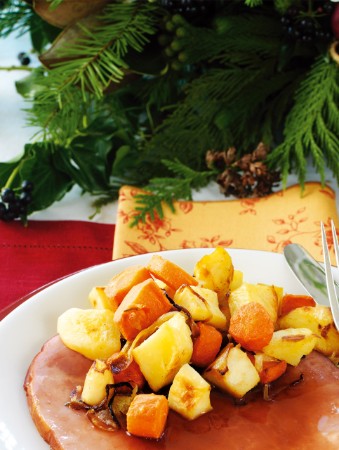 Root Vegetable Home Fries
Holiday 2006
BY: Jennifer McLagan
These home fries are finished in the oven to simplify brunch for the host. Cook the vegetables ahead of time and refrigerate them until ready to use.
3 medium potatoes, peeled
4 carrots, cut in half crosswise
3 parsnips, cut in half crosswise
Salt
1 bay leaf
1 large onion, sliced
1 tbsp (15 mL) rosemary leaves
¼ cup (50 mL) olive oil
Freshly ground pepper
1.  Place the potatoes, carrots and parsnips in a large saucepan. Cover the vegetables with cold water, add 1 tsp (5 mL) salt and the bay leaf. Bring to a boil, then reduce the heat and simmer for 10 to 15 minutes until just tender. Drain.

2.  Preheat the oven to 425ºF (220ºC).

3.  Let the vegetables cool, then dice. Place them in a large bowl, add the onion, rosemary and olive oil. Season well with salt and pepper and toss to coat the vegetables with the oil.

4.  Place the vegetables, in a single layer, in a large roasting pan and cook for 35 to 45 minutes until browned and tender.

Ham Steaks with Port and Cinnamon Glaze

Ham steaks are available from your butcher or in the supermarket. Prepare the glaze up to 2 days ahead.

¾ cup (175 mL) port
¼ cup (50 mL) honey
¼ packed cup (50 mL) dark brown sugar
1 tbsp (15 mL) freshly squeezed lemon juice
1 tsp (5 mL) cinnamon or cinnamon stick
6 thick ham slices
1. Preheat the oven to 425ºF (220ºC).

2. Place the port, honey, brown sugar, lemon juice and cinnamon in a small saucepan. Bring to a boil over medium heat, stirring to dissolve the sugar. Boil the glaze for 3 minutes, stirring from time to time.

3. Place the ham slices, slightly overlapping, in a baking dish and pour over the glaze.

4. Bake for 5 minutes, then baste the slices with the glaze and continue to cook for another 10 minutes or until the glaze is bubbling. Serve with Root Vegetable Home Fries.
SHARE