Rocky Roads on a Stick
Summer 2012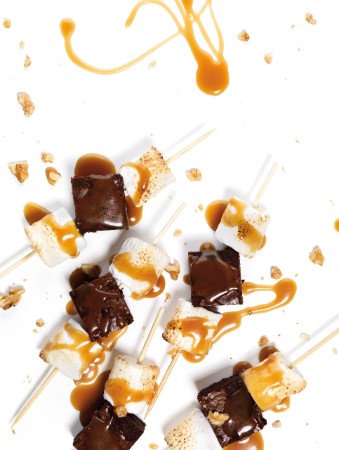 Rocky Roads on a Stick
Summer 2012
BY: Victoria Walsh
Create a unique dessert course by serving all of the delicious ingredients in rocky road ice cream on a stick. This stress-free dessert course comes equipped with make-ahead options for the sauce, brownies and skewers so you don't find yourself in the kitchen when the doorbell rings.
BROWNIES
¾ cup (175 mL) unsalted butter, at room temperature
8 oz (250 g) semi-sweet chocolate, finely chopped
1 cup (250 mL) all-purpose flour
1/3 cup (80 mL) cocoa powder, sifted ¼ tsp (1 mL) salt
3 eggs
1 cup (250 mL) granulated sugar
1 tsp (5 mL) vanilla

BUTTERSCOTCH SAUCE
½ cup (125 mL) packed brown sugar
½ cup (125 mL) whipping cream, 35%
¼ cup (60 mL) unsalted butter
2 tsp (10 mL) vanilla
¼ (1 mL) fleur de sel or a generous pinch of salt
48 regular-size marshmallows, about 400 g bag
24 walnut halves, about 2 oz (60 g), chopped
24 wooden skewers
1 Preheat oven to 350°F (180°C). Grease or spray an 8 x 8-inch (20 x 20-cm/2 L) glass baking dish with butter or oil.

2 Place 3/4 cup (175 mL) butter and the chocolate in a small saucepan and set over medium-low heat. Stir frequently until melted. Remove from heat. Set aside and let cool.

3 In a medium bowl, whisk flour with cocoa and salt. In a large bowl, whisk eggs. Whisk in granulated sugar and 1 tsp (5 mL) vanilla. Whisk cooled chocolate mixture into egg mixture until evenly mixed. Then stir in flour mixture just until mixed. Pour batter into prepared baking dish.

4 Bake in centre of preheated oven for 35 to 40 minutes or until firm around edges, set in centre and a cake tester or toothpick inserted into middle of brownies comes out with crumbs clinging to it. Remove to a rack. Let cool completely. Brownies will keep well in an airtight container or tightly wrapped with plastic wrap at room temperature for up to 1 day.

5 Meanwhile, prepare butterscotch sauce. Stir brown sugar, cream and butter in a small saucepan set over medium heat. Bring to boil. Reduce heat. Gently boil, stirring occasionally and adjusting heat as needed, for 5 minutes or until slightly thickened. Remove from heat. Stir in 2 tsp (10 mL) vanilla and fleur de sel. If making ahead, sauce will keep well, covered and refrigerated for up to 3 days.

6 Cut brownies into 24 pieces. Skewer a marshmallow, then a piece of brownie and then another marshmallow (see TIP). Repeat with remaining ingredients and skewers. Place on a large platter. If making ahead, prepared skewers will keep well, tightly covered with plastic wrap, for up to 8 hours. Just before serving, drizzle skewers with butterscotch sauce and sprinkle with chopped walnuts.Makes 24 servings

TIP If you have a kitchen torch, lightly torch skewered marshmallows until golden.
SHARE