Roasted Veal Chops with Mushroom Sauce and Truffle Oil
Hiver 2006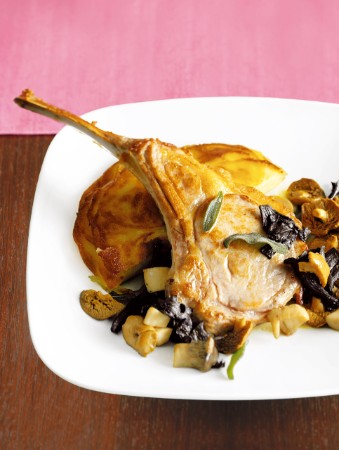 Roasted Veal Chops with Mushroom Sauce and Truffle Oil
Hiver 2006
BY: Lucy Waverman
French-cut veal chops have had the bones cleaned of meat and gristle. They are more attractive, but other veal rib or loin chops may also be used. The sage leaves can be fried a few hours ahead and the leftover sage-flavoured oil can be reused. Serve the chops over the Potato Galette (recipe follows).
1 tbsp (15 mL) olive oil
2 French-cut veal chops (about 1½ inches/4 cm thick)
Salt and freshly ground pepper

Mushroom Sauce
2 tbsp (25 mL) olive oil
6 oz (175 mL) mixed wild mushrooms, trimmed and sliced
1 tsp (5 mL) finely chopped garlic
¼ cup (50 mL)  mushroom or beef stock
½ tsp (2 mL) truffle oil

Garnish
¼ cup (50 mL) olive oil
12 fresh sage leaves


1. Preheat oven to 450ºF (230ºC).

2. Heat oil in a skillet over medium-high heat. Season veal with salt and pepper. Cook chops for about 2 minutes per side, or until browned. Transfer to a metal baking dish and bake for 8 to 12 minutes, or until just pink.

3. Prepare mushroom sauce while veal is cooking. Heat olive oil in a skillet over medium-high heat. Add mushrooms and sauté for about 3 minutes, or until limp. Add garlic and sauté for 1 minute longer. Add stock and bring to a boil. Drizzle in truffle oil.

4. Heat oil for garnish in a small skillet over high heat. Add sage leaves and sauté for about 30 seconds, or until crisp. Drain on paper towels. Serve chops with mushroom sauce and sprinkle with sage leaves.

Potato Galette
1/3 cup (75 mL) clarified butter (recipe follows)
1 lb (500 g) Yukon Gold potatoes, peeled and thinly sliced
Salt and freshly ground pepper
1. Preheat oven to 425ºF (220ºC).

2. Spread 3 tbsp (45 mL) clarified butter over base of a small ovenproof skillet. Layer a circle of potatoes over butter. Brush potatoes with butter and season with salt and pepper. Continue to layer potatoes, brushing each layer with butter and seasoning until all potatoes are used. Pour any remaining butter over top.

3. Place skillet over medium heat and cook potatoes until bottom layer starts to brown, about 5 minutes. Cover potatoes with parchment paper and a lid that sits directly on paper. Press down.

4. Bake potatoes for 15 minutes. Remove lid and paper and press potatoes down again. Bake, uncovered, for 25 to 30 minutes longer, pressing down twice more, until potatoes are very tender.

5. Drain off any excess butter. Invert galette onto a serving dish and cut in half.

Clarifying Butter
To clarify butter, gently melt 1 cup (250 mL) unsalted butter in a heavy pot. Remove from heat and let sit until cool. The white milk solids will settle to the bottom and the clear butter will remain on top. Strain butter through cheesecloth and discard milk solids. Clarified butter will keep in the refrigerator for up to a month.
Makes about ¾ cup (175 mL)
SHARE