Roasted Veal Chops with King Mushroom Sauce
Spring 2009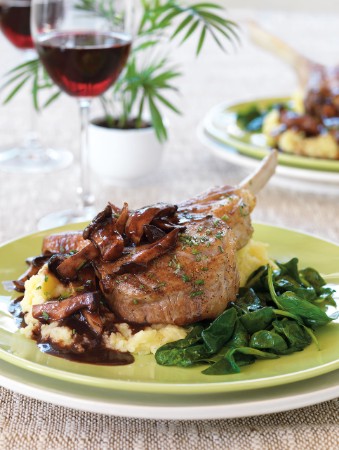 Roasted Veal Chops with King Mushroom Sauce
Spring 2009
BY: Lucy Waverman
The veal chops should be about 1 ½ inches (4 cm) thick. Don't crowd them in the pan for roasting—use a roasting pan if your skillet is not big enough. The sauce is outstanding but for the best flavour you should use real stock, either homemade or purchased, instead of bouillon cubes or stock powder. Look for low-sodium stocks at the supermarket or the butcher which, when reduced, do not have that salty flavour. The natural gelatine in real stock helps the sauce to thicken. Frenched veal chops have the bones cleaned for an elegant presentation.
4 frenched veal rib chops, 12 oz (375 g) each
Salt and freshly ground pepper
1 tbsp (15 mL) chopped fresh rosemary
2 tbsp (25 mL) olive oil
12 oz (375 g) king mushrooms, quartered

Sauce
¼ cup (50 mL) red wine
¼ cup (50 mL) balsamic vinegar
1 cup (250 mL) beef or chicken stock
1 tbsp (15 mL) tomato paste
2 tbsp (25 mL) unsalted butter, cut in pieces
2 tbsp (25 mL) chopped chervil
1. Preheat oven to 450°F (230°C).

2. Sprinkle veal chops with salt, pepper and 2 tsp (10 mL) rosemary.

3. Heat oil in large skillet over medium-high heat. Working in batches if necessary, add veal chops and sear on each side and around the fat edge for about 2 minutes per side or until golden. Remove veal from pan and reserve veal and skillet separately.

4. Turn heat to medium and add mushrooms to skillet, adding a little more oil if needed. Sauté until mushrooms are softened, about 3 minutes.

5. Sprinkle mushrooms with remaining 1 tsp (5 mL) rosemary and place veal chops on top. Place in oven and roast for 12 to 14 minutes, turning once, or until chops are pink in centre. Remove chops and mushrooms, which should be nicely browned and tender.

6. Place skillet on medium-high heat and add wine and balsamic vinegar. Bring to a boil scraping up any brown bits on bottom of skillet. Add stock and tomato paste and boil until mixture becomes slightly syrupy, about 5 minutes. Remove from heat and beat in butter. Stir in mushrooms and chervil. Place veal on serving plate and top with sauce and mushrooms.

7. Drizzle any remaining sauce around the side.
SHARE