Roasted Root Vegetable Tartine
Autumn 2017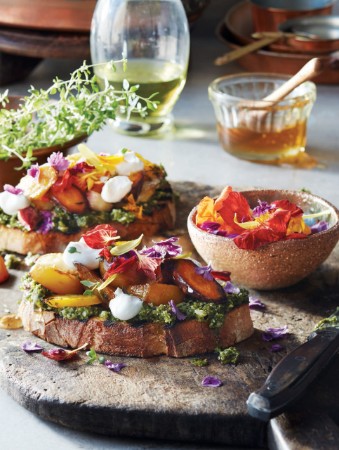 Roasted Root Vegetable Tartine
Autumn 2017
BY: Amanda Sentineal, Backhouse Restaurant
At backhouse, the kitchen makes its own sourdough bread and cheeses. Amanda Sentineal and Chef Ryan Crawford share a passion for simple preparation (like roasting vegetables) that let prime ingredients really shine. Serve as an appetizer or for lunch.
ROASTED VEGETABLES
½ lb (250 g) parsnips, peeled and cut in ½ inch (1 cm) slices on a bias, about 2 cups (500 mL)
¾ lb (375 g) beets (candy cane or golden), peeled and cut into ½ inch (1 cm) wedges, about 2 cups (500 mL)
½ lb (250 g) heirloom carrots, peeled and cut on a bias, about 1½ cups (375 mL)
10 sprigs of thyme
1 tbsp (15 mL) grape-seed oil
1 tbsp (15 mL) honey
Salt to taste

PESTO
¼ cup (60 mL) hazelnuts
6 cups (1.5 L) packed kale, leaves only
½ cup (125 mL) grape-seed oil
1 tsp (5 mL) honey
¼ cup (60 mL) grated aged cheddar
1 tbsp (15 mL) white wine vinegar
Salt to taste

TARTINE
4 slices artisanal sourdough bread, sliced ¾ inch (2 cm) thick
1 tbsp (15 mL) grape-seed oil

GARNISH
¼ cup (60 mL) plain Greek yogurt
1 tsp (5 mL) honey, optional
2 tsp (10 mL) thyme leaves
Edible flowers (optional)
1. Preheat oven to 425°F (220°C).

2. Toss parsnips, beets and carrots with the thyme, oil, honey and salt. Arrange vegetables in a single layer on a rimmed baking sheet. Roast until well browned and tender, about 30 minutes, tossing midway.

3. Place hazelnuts on a small baking sheet. Toast in oven until they are browned and aromatic, about 5 to 7 minutes. Rub off skins with a clean towel.

4. Bring a large pot of water to a boil and salt generously. Blanch the kale for 30 seconds and then plunge into ice water. Ring out the kale in a clean dish towel to ensure that all excess moisture is removed. You should have about ¾ cup (175 mL).

5. Combine kale, oil, hazelnuts and honey in a blender; pulse until all ingredients are combined into a thick paste. Stir in cheddar and vinegar. Season with salt to taste.

6. Heat grill to medium-high and lightly brush each side of sourdough with oil. Grill bread on each side until golden brown, 1 to 2 minutes per side.

7. Spread 2 tbsp (30 mL) of pesto onto each slice of bread and top evenly with the roasted vegetables. Top each tartine with a few dollops of yogurt, a drizzle of honey, thyme leaves and some edible flowers.
SHARE