Roasted Rhubarb Syllabub, Cardamom Chiffon Cake & Rhubarb Syrup
Début de l'été 2019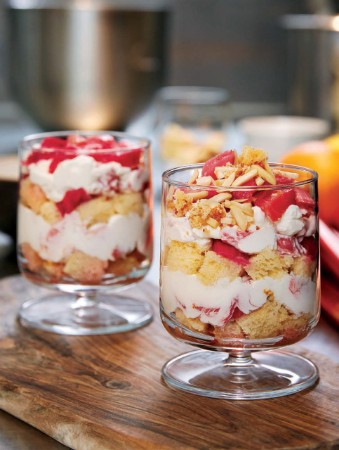 Roasted Rhubarb Syllabub, Cardamom Chiffon Cake & Rhubarb Syrup
Début de l'été 2019
BY: Renée Bellefeuille
The cake, the roasted rhubarb and the syllabub cream can be made ahead of time. The cake can also be frozen, making this an easy dessert to organize. You could also buy a cake and cut it up although you would miss the cardamom. Chef Renée serves this dessert in Mason jars although we liked the look of sherbet or wine glasses.
CAKE
2 egg whites
½ cup (125 mL) granulated sugar, divided
2 egg yolks
3 tbsp (45 mL) neutral-tasting oil, such as canola or sunflower Scant ¼ cup (60 mL) water
½ tsp (2 mL) vanilla extract
¾ cup plus 2 tbsp (175 mL plus 30 mL) cake and pastry flour
1 tsp (5 mL) ground cardamom
1 tsp (5 mL) baking powder
½ tsp (2 mL) salt
1 Preheat oven to 375°F (190°C). Grease the bottom and sides of an 8-inch (20-cm) square pan and line base with parchment paper.

2 Beat egg whites in bowl of stand mixer until foamy, about 30 seconds. Slowly beat in ¼ cup (60 mL) sugar until stiff peaks form, about 2 to 3 minutes. Transfer to another bowl and reserve.

3 Combine egg yolks, oil, water and vanilla in bowl of the stand mixer (no need to wash). Beat on high for 1 minute, or until well combinedand frothy.

4 Sift together flour, remaining ¼ cup (60 mL)sugar, cardamom, baking powder and salt. Add to egg yolk mixture and beat together for 30 to 60 seconds, or until combined.

5 Stir a large spoonful of reserved egg whites into egg yolk mixture until incorporated, to lighten the mixture. Fold in remaining whites. Spoon into prepared pan.

6 Bake in centre of oven for 20 to 25 minutes, or until cake springs back when lightly pressed in centre. Let cool 10 minutes before turning out onto a cooling rack. Remove parchment. Once cake has completely cooled, cut in ½-inch (1-cm) cubes and reserve.

7 Prepare Roasted Rhubarb and Syllabub Cream (recipes follow).

ASSEMBLY OF DESSERT
8 Gently fold about one-quarter of roasted rhubarb into syllabub cream. Add a layer of cake—slightly less than ½ cup (125 mL)—to the bottom of each serving dish. Drizzle on some syrup and spoon on some syllabub cream, about 2 heaping tbsp (30-plus mL), garnishing with a few pieces of roasted rhubarb, if desired. Repeat layers once more and top each dish with a dollop of the  emaining roasted rhubarb.

9 As an added texture, if desired, any extra cake can be crumbled and tossed with almond slivers and granulated sugar and baked in a 300°F (150°C) oven until toasted, about 3 to 5 minutes. Use about 1 tbsp (15 mL) each of almonds and sugar per 1 cup (250 mL) leftover cake. Sprinkle on top of dessert.
Roasted Rhubarb
Rhubarb varies in sweetness. Hot-house rhubarb is sweeter than the garden variety. If this is not sweet enough, stir in an extra . cup (60 mL) sugar and bake another 5 minutes.

1½ lbs (680 g) rhubarb, trimmed
1 cup (250 mL) granulated sugar, divided
1 tbsp (15 mL) orange zest
1 Cut rhubarb into ½-inch (1-cm) dice. Toss in mixing bowl with ½ cup (125 mL) sugar. Let sit for 30 minutes, stirring occasionally, so that some of the juice will leach out. Strain and reserve 2 tbsp (30 mL) juice for the Syllabub Cream (recipe follows). Reserve any remaining juice for syrup.

2 Preheat oven to 400°F (200°C).

3 Toss rhubarb with remaining 1/2 cup (125 mL) sugar and orange zest in a baking dish just large enough to hold the rhubarb in a single layer. Bake until rhubarb is tender and lightly browned and sugar has melted, about 20 to 25 minutes. Transfer to a sieve and strain liquid, pressing down to extract as much juice as possible, reserving it for syrup.

4 Combine juice from roasted rhubarb with any leftover juice from marinated rhubarb. Stir to combine and set aside.
Syllabub Cream
How sweet your wine is will affect the amount of icing sugar needed. Start with ¼ cup (60 mL) and taste. If not sweet enough, add up to another ¼ cup (60 mL).

2 tbsp (30 mL) reserved rhubarb juice (from marinated rhubarb)
¼ cup (60 mL) sweet wine, such as Gewurztraminer or Riesling
1 tbsp (15 mL) orange zest
1½ cups (375 mL) whipping cream
½ cup (125 mL) icing sugar
1 Combine rhubarb juice, wine and zest in bowl of stand mixture and refrigerate to allow flavours to infuse. This can be done the day before or up to 2 hours before assembling the dessert.

2 Turn beater on low speed and slowly add the cream to juice mixture. Gradually increase speed to high (to avoid splashing) and whip until soft peaks form, about 1 to 2 minutes. Sprinkle sugar overtop and continue whipping until desired consistency (it will look like whipped cream) another 1 to 2 minutes. Reserve until needed in the refrigerator.
SHARE