Roasted Red Pepper Pâté
Temps des Fêtes 2004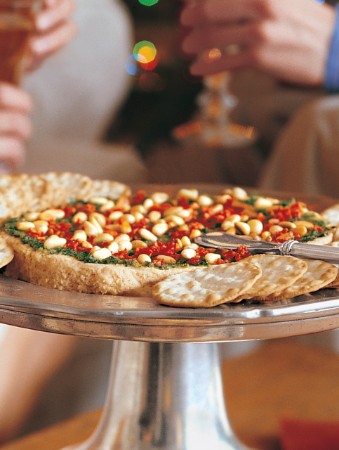 Roasted Red Pepper Pâté
Temps des Fêtes 2004
BY: Marilyn Bentz-Crowley
Yes, cheesecake can be savoury! This smooth paté features Mediterranean tastes such as roasted peppers, pesto, sun-dried tomatoes and pine nuts.
2 sweet red peppers
One 250 g pkg cream cheese, softened
½ lb (250 g) creamy chèvre, softened
2 tbsp (25 mL) butter, softened
1 clove garlic, minced
½ tsp (2 mL) salt
1/8 to ¼ tsp (0.5 to 1 mL) cayenne
2 eggs
¼ cup (50 mL) thick pesto
4 sun-dried tomatoes, minced (see Tip)
½ cup (125 mL) pine nuts, toasted
1. Preheat oven to 350ºF (180ºC).

2. Line an 8-inch (2-L) cake pan with foil, folding back overhang onto outside of pan. Coat foil with cooking spray or butter. Roast peppers, turning frequently, under a preheated broiler for 10 minutes (or over an open gas flame) until black spots appear on all sides. Cool, peel and seed; drain.

3. In a food processor, place roasted peppers, cream cheese, chèvre, butter, garlic, salt and cayenne. Whirl, stopping and scraping down the sides as needed, until almost puréed with tiny chunks of red pepper still visible. Whirl in eggs until well mixed. Turn mixture into lined pan. Bake in center of preheated oven for 35 minutes or until edges are puffed and centre is barely set. Cool in pan on a rack. Leave pâté in pan, cover and refrigerate several hours or up to 3 days. (Pâté can be wrapped air-tight and frozen for 2 to 3 weeks.)

4. When ready to serve, grasp foil edges and lift cold pâté from pan. Place an upside-down serving plate over top and invert pâté. Peel off foil. Spread pesto over top like icing on a cake, leaving sides uncoated. Sprinkle with minced sun-dried tomatoes and pine nuts; serve with water crackers or plain bagel thins.

Tip: If your sun-dried tomatoes are dry and hard, plump them up in boiling water to cover; drain before mincing.

To double recipe: Double ingredients; whirl all together. Divide cheese mixture between 2 prepared pans for baking.
SHARE