Roasted Pear, Radicchio & Pecans with a Creamy Cambozola-Maple Dressing
Holiday 2018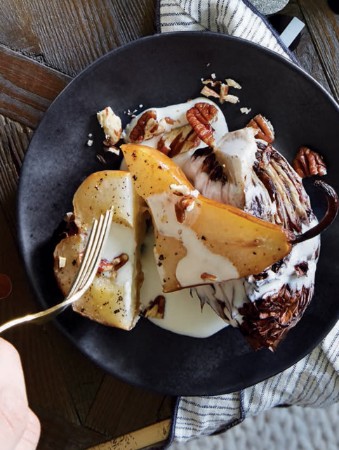 Roasted Pear, Radicchio & Pecans with a Creamy Cambozola-Maple Dressing
Holiday 2018
BY: Signe Langford
The sweetness of pear and maple is a perfect foil for the bitterness of roasted radicchio and the rich—um, stinkiness or pied de Dieu, in more polite parlance—of the Cambozola. Pick a nice firm pear that will stand up to roasting— Bosc is good, both for its firmness but also for its lovely long lines. Leave the stem on; it looks more elegant. Yogurt adds an acidic tang to this vinaigrette, but if you happen to have some buttermilk on hand and want to use it up, it will work too—the dressing will just be runnier.
1 tbsp (15 mL) olive oil, plus a drizzle more for greasing the cookie sheet
1½ heads of red and white radicchio, cut into 6 wedges
3 pears, halved and cored (a melon baller works really well for this).
1 tsp (5 mL) pepper, divided
½ tsp (2 mL) sea salt
36 raw pecan halves, about ½ cup (125 mL).
4 oz (115 g) Cambozola, about ¾ cup (175 mL) cubed
1 tbsp (15 mL) maple syrup
¾ cup (175 mL) full-fat plain yogurt
1 tsp (5 mL) Dijon mustard
1. Preheat oven to 375°F (190°C).

2. Lightly oil a cookie sheet and lay out the radicchio wedges and pear halves, cut-side up. Drizzle with about 1 tbsp (15 mL) olive oil, sprinkle with ½ tsp (2 mL) of the pepper and the salt. Leave some room on the cookie sheet for the pecans, which will be added midway.

3. Pop into the oven and roast for about 15 minutes, then add the pecans to the sheet; continue to roast for a further 10 minutes or so, for a total of 20 minutes or until the pears have just begun to soften and the radicchio is golden, soft and opening up. When done, set aside on the counter and allow to cool to room temperature. Coarsely chop nuts.

4. Into a food processor or blender, add the Cambozola, maple syrup, yogurt, Dijon and remaining pepper. Blend on high until creamy and mostly smooth, with a few small lumps left, about 30 seconds to 1 minute.

5. To serve, arrange a pear half, cut-side up, with a wedge of radicchio on each of 6 salad plates, divide pecans between them, then drizzle each with about 2 to 3 tbsp (30 to 45 mL) of the dressing.
Serves 6, makes about 1 cup (250 mL) vinaigrette
SHARE