Roasted Grape & Rapini Sandwich
Été 2020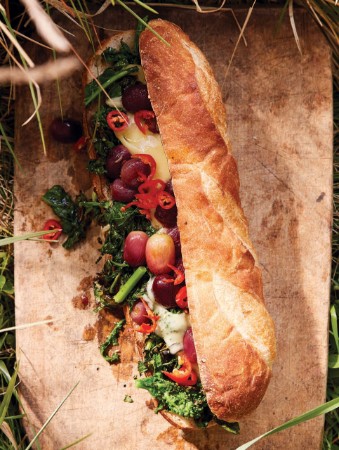 Roasted Grape & Rapini Sandwich
Été 2020
BY: Christopher St. Onge
A good sandwich is always in order. The flavourful juice that results from cooking the grapes is spooned into the sandwiches, so be sure to grab good and chewy crisp demi- baguettes. Rapini is bitter but shines with the sweet grapes—if it's not your thing, substitute with one large bunch of kale and cook as per the method described in the Celeriac Steaks with Kale, Walnuts & Parmesan (recipe below).
1 lb (455 g) rapini, trimmed
2 tbsp (30 mL) plus ¼ cup (60 mL) olive oil, divided
1 ¾ tsp (9 mL) salt, divided
2 cups (500 mL) seedless red grapes ¼ tsp (1 mL) fennel seed
Black pepper
4 cloves garlic, peeled 4 demi-baguettes
8 oz (225 g) fontina cheese, sliced
1 red finger chili, thinly sliced (optional)
1 Preheat the grill to 375°F (190°C).
2 Wash rapini and shake off excess water, but leave wet. In a large bowl, toss with 2 tbsp  (30 mL) olive oil and 1 1⁄2 tsp (7 mL) salt. Set aside while assembling grapes.
3 Arrange the grapes on one-half of a large piece of foil. Sprinkle with remaining 1⁄4 tsp (1 mL) salt and drizzle with 1⁄4 cup (60 mL) olive oil. Add fennel seeds and a grinding of pepper. With the side of a chef's knife, lightly crush the garlic cloves and tuck into grapes. Bring the excess foil over, fold edges and pinch to seal.
4 Place the packet on the grill, then arrange the rapini around it. Cook the grapes for 10 minutes then remove. Grill the rapini for 12 to 14 minutes total or until tender and charred, turning over halfway through.
5 Meanwhile, split the baguettes lengthwise, leaving one side intact; open up like a book and lightly toast on grill.
6 Turn off grill. Roughly chop the rapini; set aside. Open up the grape parcel and re- move the garlic cloves to a small bowl; mash. Spread an equal amount of garlic inside each baguette. Divide rapini between sandwiches, then top rapini with an equal portion of cheese and grapes. If using the chili, divide be- tween the sandwiches. Close the sandwiches up as best you can and divide the liquid from the grape parcel equally into each opening.
7 Return the sandwiches to the cooler edges of the extinguished grill, close the lid and warm the lot to melt the cheese. This will take anywhere from 4 to 7 minutes, depending on the heat remaining. Serve warm.
Celeriac Steaks with Kale, Walnuts & Parmesan
There are a number of steps here but each one is simple. All but the kale can be done ahead of time—the celeriac steaks can be reheated over an extinguished grill but are also delicious at room temperature. The dressing is what pulls it together. Sweet, salty and sharp, it's pretty great spooned over grilled baby gems too. Make sure your kale is dry before grilling—you want a little crispness once cooked. You'll make lifelong friends of vegetarians with this one.
1 large celeriac, about 2 ½ lbs (1.13 kg)
2 tbsp (30 mL) mayonnaise
½ cup (125 mL) plus 3 tbsp (45 mL) olive oil, divided
1 tsp (5 mL) Dijon mustard Salt and pepper
½ cup (125 mL) toasted walnut pieces, divided
1 tbsp (15 mL) red wine vinegar
1 tbsp (15 mL) lemon juice
1 clove garlic, finely grated or chopped 
2 tbsp (30 mL) finely chopped mint
1 tbsp (15 mL) finely chopped golden raisins
12 large leaves Tuscan (dino) kale, centre ribs removed
½ cup (125 mL) finely grated Parmesan
1 Preheat the grill for indirect cooking (with one side turned off) to 350°F (180°C).
2 Cut the celeriac in half through the equator. Place each half cut-side down and, using a sharp knife, cut away peel. Cut each half into 4 round steaks a scant inch (2.2 cm) thick, beginning from the cut centre and working toward the poles (if any remains of the ends, save for another use).
3 In a small bowl, whisk together mayonnaise, 1 tbsp (15 mL) olive oil and the Dijon. Brush all over the steaks and season each with salt and pepper. Place over indirect heat, close grill lid and let cook 20 minutes. Turn over and cook 20 minutes longer until golden and tender.
4 Meanwhile, finely chop ¼ cup (60 mL) walnuts. Add to a small bowl along with vinegar, lemon juice, garlic, mint and raisins. Drizzle ½ cup (125 mL) olive oil over and whisk to combine; season with salt and pepper to taste.
5 Remove celeriac from grill and set aside. Increase heat to 400°F (200°C).
6 Toss the kale leaves with remaining 2 tbsp (15 mL) olive oil and ¼ tsp (1 mL) salt, being sure to massage the oil into the crevices. Place over direct heat in a single layer and grill 4 to 5 minutes or until edges just begin to crisp. Remove to a baking sheet.
7 To assemble, divide the steaks between 4 dinner plates. Spoon some of the dressing over each. Divide the kale between the steaks, folding the leaves and piling over. Spoon more dressing overtop the kale, garnish with the remaining ¼ cup (60 mL) walnuts and the Parmesan.
SHARE