Roasted Fig And Walnut Tart
Automne 2007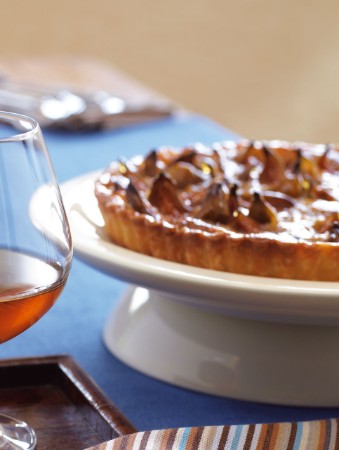 Roasted Fig And Walnut Tart
Automne 2007
BY: Eshun Mott
Roasted figs become soft and juicy. Their crisp tips stand up beyond a layer of walnut cream.
Pastry
1 cup (250 mL) all-purpose flour
¼ cup (50 mL) icing sugar
Pinch salt
1/3 cup (75 mL) cold unsalted butter, cut into pieces
2 tbsp (25 mL) cold water
1 large egg yolk


Filling
2/3 cup (150 mL) walnuts
1/3 cup (75 mL) sugar
¼ cup (50 mL) unsalted butter, softened
2 large egg yolks
½ tsp (2 mL) lemon zest
1 tbsp (15 mL) flour
12 to 15 large fresh black figs
¼ cup (50 mL) apricot jam
1. Combine flour, sugar and salt in a medium bowl or a food processor, add butter and cut or pulse it in until it resembles small peas. Beat water and egg yolk together until uniform and add just enough to bring the pastry together into a ball (it may need slightly more or less liquid depending on the level of humidity in the air). Wrap pastry in plastic and chill for at least 30 minutes.

2. Preheat oven to 350°F (180°C).

3. Roll out pastry on a floured work surface and fit into a 9-inch (23-cm) tart pan. Cut away excess pastry. Prick pastry base with a fork, line with foil and fill with pie weights. Place tart pan on a baking sheet and
bake for 15 minutes, remove weights and bake for 8 minutes more
or until pastry looks pale and dry but not cooked through. Cool.

4. Increase oven temperature to 400°F (200°C).

5. Place walnuts and 2 tbsp (25 mL) of the sugar in the bowl of a food processor and pulse until walnuts are finely ground.

6. Place butter and remaining ¼ cup (50 mL) sugar in a medium mixing bowl and beat until fluffy. Add walnut mixture and beat until well combined. Add yolks and lemon zest to mixture and beat until mixture is uniform. Stir in flour. Scrape walnut cream into pre-baked pastry shell and spread into an even layer.

7. Cut figs into quarters, but not all the way through the base. Fit figs into tart shell, allowing them to stand slightly open at the top (like flowers), but without leaving any large gaps between them.

8. Place tart on a baking sheet in the lower third of your oven and bake for 40 to 45 minutes or until walnut cream is puffed and slightly golden, and the tips of the figs are slightly crisped.

9. Heat apricot jam in the microwave or in a small pot over low heat until liquid. Strain out and discard any bits of apricot. Use a pastry brush to coat figs with apricot glaze.
SHARE