Roasted Curry Cashew Paste with Cauliflower & Peas
Hiver 2010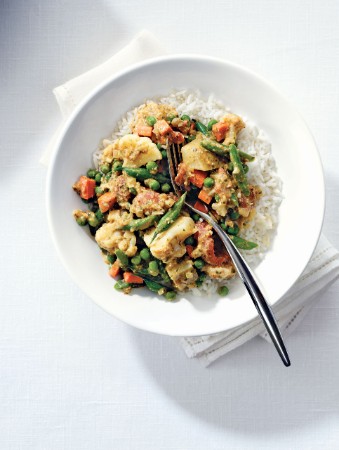 Roasted Curry Cashew Paste with Cauliflower & Peas
Hiver 2010
BY: Nettie Cronish
This rich, aromatic dish combines the smooth flavour of cashews with freshly roasted spices and organic canned tomatoes. Cut vegetables into 1-inch (2.5-cm) pieces for even cooking.
Paste
¼ cup (50 mL) cashew nuts
2 tbsp (25 mL) coriander seeds
2 tsp (10 mL) cumin seeds
½ tsp (2 mL) black peppercorns
½ tsp (2 mL) seeded and minced fresh green chili
1 cup (250 mL) coarsely chopped fresh coriander leaves
½ cup (125 mL) water

Vegetables
1 cup (250 mL) diced potatoes
3 cups (750 mL) cauliflower florets
½ cup (125 mL) diced carrot
1 cup (250 mL) sliced green beans
1 cup (250 mL) green peas
2 tbsp (25 mL) olive oil
1 cup (250 mL) finely chopped onion
2 tbsp (25 mL) finely chopped garlic
1 tbsp (15 mL) finely chopped ginger
1 can (796 mL) organic peeled whole tomatoes
¼ tsp (1 mL) turmeric
¼ tsp (1 mL) sea salt
1 cup (250 mL) water
2 tsp (10 mL) brown sugar
1 tbsp (15 mL) lemon juice
1. To make paste, roast the cashews, coriander, cumin and peppercorns in a small dry skillet over low heat, stirring frequently for 5 minutes, or until very fragrant. Using a spice grinder or blender, grind to a smooth powder. Transfer to food processor (if using spice grinder). Add chili, coriander leaves and water. Blend to a smooth paste. (Covered and refrigerated, paste keeps well for up to 3 days.)

2. Place potatoes and cauliflower in a large pot of salted water. Place over high heat; bring to the boil. Partially cover; simmer for 8 to10 minutes or until tender. Drain well; then set aside in a bowl.

3. To blanch vegetables, refill large pot with water; bring to the boil over high heat. Toss in carrots, green beans and green peas. Bring back to a boil; immediately drain in a colander. Run under cold water until cool; drain again. Combine in bowl with potatoes and cauliflower. (If making ahead, cover and refrigerate for up to 3 days.)

4. Heat oil in a large skillet over medium heat. Cook onion for 5 minutes or until tender. Stir in garlic and ginger; sauté for 2 minutes. Add tomatoes, turmeric and salt. Cover and cook for 5 minutes.

5. Stir in cashew paste and water. When hot, add sugar, lemon juice and vegetables. Bring to a boil, reduce heat and simmer for 5 minutes to blend flavours. Serve over rice or noodles.
SHARE