Red Lentil Penne with Spinach, Burrata, Pancetta & Pistachio
Début de l'été 2019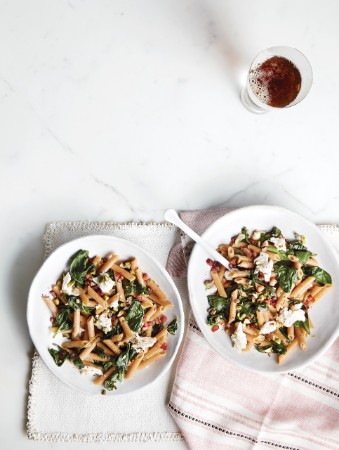 Red Lentil Penne with Spinach, Burrata, Pancetta & Pistachio
Début de l'été 2019
When you're looking for a more traditionally shaped pasta that is much higher in fibre and protein and lower in carbs than most traditional pastas, colourful legume and bean-based pastas might be the perfect choice for you—especially as they are interchangeable in recipes. They range from mung bean to chickpea to black bean and come in all shapes from spaghetti to fusilli. They're pleasantly toothsome and are easily found in the health section of the supermarket or pasta section of a health food store.
2 oz (60 g) pancetta
1 box (227 g) red lentil penne or fusilli
2 green onions, thinly sliced
1 clove garlic, minced
¼ cup (60 mL) white wine
6 cups (1.5 L) lightly packed baby spinach
Generous pinch of salt and black pepper
½ a ball of burrata, about 4 oz (125 g)
2 tbsp (30 mL) coarsely chopped shelled pistachios
1 Bring a large pot of salted water to a boil. Meanwhile, either finely dice or thinly slice pancetta. Place in a large frying pan over medium-low heat. Cook, stirring occasionally, until crispy, reducing heat as necessary if it is browning too quickly. Remove pancetta to a small paper-towel-lined plate. Depending on pancetta, you may need to discard some of the fat or add olive oil to pan, making sure you have about 1 tbsp (15 mL).

2 Add pasta to boiling water. Cook according to package direction until al dente, about 5 to 9 minutes, depending on brand used.

3 Add green onions and garlic to pan. Set over low heat and stir 30 to 60 seconds just until green onions soften slightly. Add wine. Stir, then simmer until wine is nearly evaporated. Add spinach, stir until barely wilted, about 1 minute. Turn off heat.

4 Remove about 2 tbsp (30 mL) of pasta water and reserve. Drain pasta well. Add to barely wilted spinach, along with reserved pancetta, salt and pepper. Stir to combine. If mixture seems dry, stir in a little of the reserved pasta water. Serve in wide pasta bowls, topped with dollops of burrata and a sprinkling of pistachios.
SHARE