Red Fruit Salad with Sparkling Wine
Summer 2018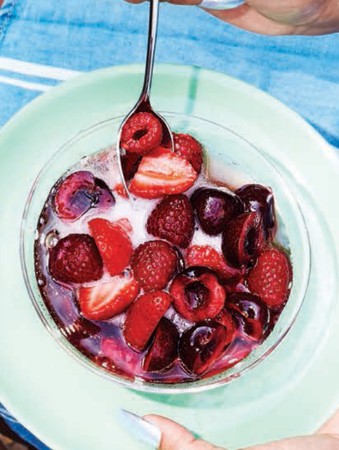 Red Fruit Salad with Sparkling Wine
Summer 2018
BY: Christopher St. Onge
This very special fruit salad makes the most of perfumed tender fruit. It's special-occasion-worthy, say for a brunch celebration with long lost friends or to finish a smart supper party. Dressing the bowl with sparkling wine in front of your guests makes for good theatre too. Spoon some over split crackly croissants, or eat the salad alone in small delicate-stemmed glasses. Split the vanilla bean in half along its length and keep the other half for another use.
1½ cups (375 mL) raspberries
4 cups (1 L) strawberries, hulled and halved
2 cups (500 mL) pitted and halved cherries
½ vanilla bean
1 tbsp (15 mL) sugar
2 tbsp (30 mL) elderflower cordial or St-Germain Elderflower liqueur (LCBO 180695)
1 cup (250 mL) chilled sparkling Moscato wine such as Jacob's Creek Moscato Rosé (367276)
1. Combine all the fruit in a large serving bowl. Scrape the seeds from the vanilla bean and add seeds to bowl along with the half bean; sprinkle with sugar and elderflower cordial or liqueur; gently toss to coat and break up the clump of seeds. Cover and refrigerate for at least 30 minutes and as long as 2 hours.

2. When ready to serve, open sparkling wine and pour directly over fruit, using about one third of the bottle (pouring into a measuring cup first flattens the wine). Serve immediately.
SHARE