Red Carpet Quesadillas with Lobster and Mango
Printemps 2004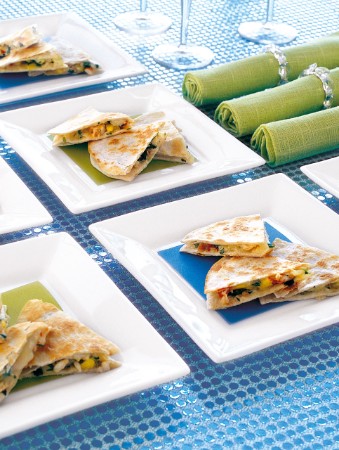 Red Carpet Quesadillas with Lobster and Mango
Printemps 2004
BY: Dana Speers
These luxurious treats are sure to impress. Sprinkling water on the quesadillas before cooking prevents the tortillas from drying out while crisping in the pan.
Two 1 1/2 pound (750 g) live lobsters
5 tbsp (70 mL) vegetable oil
2 large jalapeños, seeded and minced
8 green onions, chopped
Pinch cumin
2 mangos, peeled and cut into small dice
2/3 cup (150 mL) chopped cilantro
Salt and freshly ground pepper
Twenty-four 6-inch flour tortillas
6 cups (1.5 L) grated jack cheese


Garnish
1/4 cup (50 mL) chopped cilantro
1/2 cup (125 mL) sour cream
1. Preheat oven to 300ºF (150ºC). Bring a large pot of water to a rolling boil. Add the lobsters head first and partially cover pot. Boil lobsters for 6 minutes. Drain and cool. Remove the meat from the lobsters and dice.
2. Heat 1 tsp (5 mL) vegetable oil in a large nonstick skillet on medium-low heat. Add the jalapeño and green onions. Sauté 2 minutes and add the cumin, mango and cilantro. Stir to combine and season to taste with salt and pepper. Transfer mixture to the lobster bowl and stir to combine. Wipe skillet clean.
3. Lay 12 tortillas on a board. Sprinkle half the cheese over the tortillas. Divide the lobster mixture among the tortillas. Sprinkle with remaining cheese and top with remaining tortillas.
4. Heat 1 tsp (5 mL) vegetable oil in the skillet on medium-low heat. Sprinkle both sides of one quesadilla with a few drops of water and put it in the skillet. Cover skillet and cook quesadilla for 2 minutes per side or until browned and the cheese is melted. Transfer quesadilla to a baking tray and keep warm in the oven. Repeat with remaining quesadillas, adding more oil to the pan when necessary.
5. Combine the cilantro and sour cream in a small bowl. Cut the quesadillas into 6 wedges each. Put a small dollop of sour cream on each wedge and serve.
SHARE