Red, White & Rye
Temps des Fêtes 2016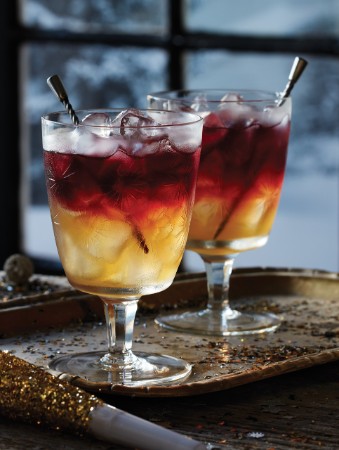 Red, White & Rye
Temps des Fêtes 2016
BY: Christopher St. Onge
Prep a batch of cocktails ahead of time, with a colour scheme fit for Canada's 150th anniversary.
1 In a pitcher, combine ½ cup (125 mL) each lemon juice and water, 1 cup (250 mL) Spiced Citrus Syrup (recipe follows), and 1½ cups (375 mL) Collingwood rye. Stir, cover and refrigerate until chilled, about 4 hours.

2 To serve, fill a rocks glass with ice and top with 3½ oz of the rye mixture. Top with 1½ oz chilled Ontario dry red wine and a few dashes of Dillon's Cranberry Bitters. Serve with a swizzle stick.
SPICED CITRUS SYRUP
1 Combine ¾ cup (175 mL) each sugar and water in a saucepan over medium heat; stir in a 4-inch (10-cm) length each of lemon and orange rind (white pith removed), 3 cracked green cardamom pods, 6 cloves and 4 dried allspice berries. Stir to dissolve sugar, boil for 5 minutes, remove from heat; let steep for 1 hour. Strain.
Makes about 1 cup (250 mL)
SHARE