Reblochon with Grana Biscuits and Caramelized Walnuts
Début de l'été 2002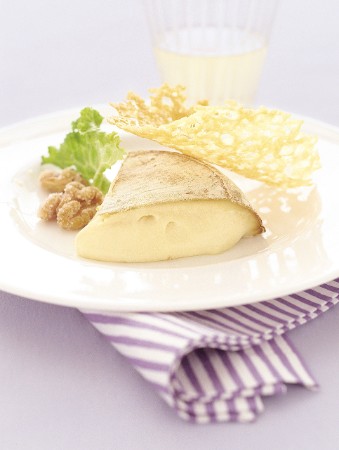 Reblochon with Grana Biscuits and Caramelized Walnuts
Début de l'été 2002
BY: Lucy Waverman
Grana Padano is a young sweet cheese, very popular in Italy with young people and used everywhere in Italy as a grating cheese over pasta and risotto. It also makes a fine cheese biscuit. Not as sharp as Reggiano, it bakes extremely well. Serve it with a softer cheese such as Taleggio or a Reblochon and a few leaves of mache dressed with a drop of extra virgin olive oil. Scatter the caramelized walnuts around the plate.
1 cup (250 mL) coarsely grated Grana Padano cheese
1. Preheat oven to 350°F (180°C). Place parchment paper over cookie sheets. Using 2 tbsp (25 mL) grated Grana make a round disc on parchment paper in a 3-inch (8-cm) circle. Repeat using all the cheese.
2. Bake 5 to 7 minutes or until melted and golden.

Caramelized Walnuts
1 cup (250 mL) walnut halves
1 tbsp (15 mL) honey
1 tbsp (15 mL) water
1 tsp (5 mL) vegetable oil
1/4 cup (50 mL) granulated sugar
1/2 tsp (2 mL) salt
1. Preheat oven to 325° F (160°C).
2. Place walnuts on a baking sheet and toast 10 to 15 minutes or until golden.
3. Combine honey, water and oil in a skillet and bring to boil. Reduce heat to medium and stir in walnuts. Cook, stirring frequently until all liquid has evaporated, about 1 minute.
4. Transfer nuts to a bowl. Combine sugar and salt and toss with nuts. Spread nuts on a cookie sheet to cool and dry. Store in an airtight container.
SHARE