Raspberry Truffle Martini
Temps des Fêtes 2008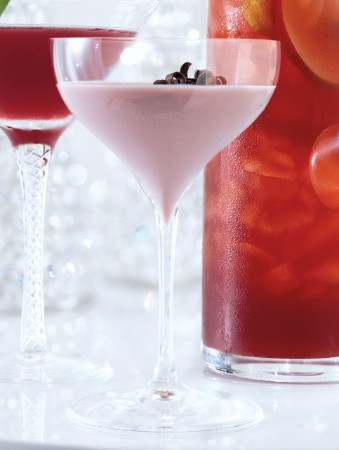 Raspberry Truffle Martini
Temps des Fêtes 2008
BY: Michelle P. E. Hunt and Laura Panter
Crafted in France from real berries, Chambord has an intense and luxurious taste, and when combined with chocolate liqueur it creates this sumptuous drinkable truffle that will impress friends and family alike.
In a cocktail shaker filled with ice, add 1 oz Chambord, ½ oz white crème de cacao and 1 oz cream. Shake and strain into a Martini glass and sprinkle with shaved chocolate.

Entertaining Size: Serves 8 People

1 cup Chambord
½ cup white crème de cacao
1 cup cream
Shaved chocolate, for topping

Add all ingredients except chocolate to a pitcher and stir to mix. Chill in fridge, or add ice cubes to chill quickly. Pour into Martini glasses and sprinkle each with shaved chocolate.
SHARE