Raspberry Hibiscus Cider Punch
Été 2020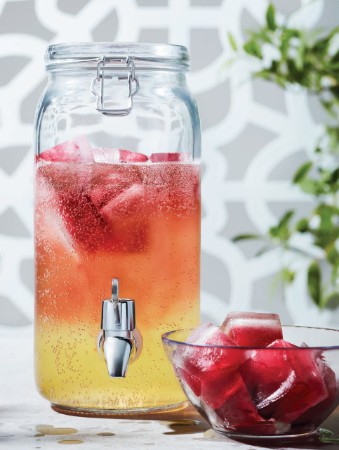 Raspberry Hibiscus Cider Punch
Été 2020
Tart and tangy with a touch of sweetness and bright floral aromas, this punch amps up the wow factor thanks to the pink-hued hibiscus ice cubes. Serve in a clear drink dispenser (our recipe is sized for an 8-L vessel) and prepare right before serving so you can watch the pinkish hues of the ice cubes imbue the fizzy punch.


2½ cups (625 mL) raspberry-flavoured vodka (we used Smirnoff)
10 cups (2.5 L) sparkling water
5 cans cider (we used Pommies Cider)
12 cups (3 L) Pink Ombre Ice Cubes, or 4 ice cube trays of 12 (recipe follows)
Mint sprigs to garnish


1 Pour vodka into a 32-cup (8-L) drink dispenser. Just before serving, gently pour sparkling water and cider into the dispenser and add ice cubes. Serve with chilled glasses and garnish with mint.
PINK OMBRE ICE CUBES
Naturally coloured with hibiscus flowers, these pretty ice cubes fade from a deep rose to a light blush, infusing the punch with floral flavours and a pop of pink. Prepare the day before serving. Don't sweat it if you have leftovers; the cubes are divine in still or sparkling water.

5 cups (1.25 L) water
¼ cup (60 mL) dried hibiscus flowers


1 Bring water to boil, add hibiscus flowers, reduce heat, and simmer for five minutes. Using a strainer, pour into a large measuring cup and let cool completely. Pour into ice trays to around two-thirds full. Freeze for at least 3 to 4 hours or until frozen. Top trays with water. Freeze overnight.
Makes 4 to 5 trays each with a dozen ice cubes
SHARE