Raisin' the Bar
OCTOBRE 2020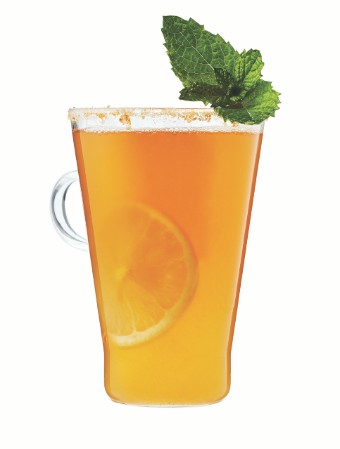 Raisin' the Bar
OCTOBRE 2020
BY: Chris Cruz
Embrace your sweet tooth at cocktail hour with this butter tart–inspired take on the classic Old Fashioned — it's a tribute to the warm, tart and fruity harvest flavours of Ontario.
Brown sugar, for rimmer (optional)
1 bag local mint tea, preferably Pluck
½ cup (125 mL) boiling water
2 oz J.P. Wiser's Old Fashioned Whisky Cocktail
¾ oz Dried-Fruit Simple Syrup (see recipe below)
¾ oz freshly squeezed lemon juice
Rim a heatproof glass with brown sugar. Place tea bag in glass. Carefully pour boiling water overtop. Steep, following package directions, about 3 minutes. Remove and discard tea bag. Pour in whisky cocktail, simple syrup and lemon juice. Stir to mix.

Dried-Fruit Simple Syrup
1 cup (250 mL) brown sugar
3 tbsp (45 mL) dried cranberries or raisins
1 cup (250 mL) boiling water
Add sugar and cranberries to a saucepan or heatproof container. Pour boiling water overtop. Let stand for 15 minutes, stirring occasionally to ensure sugar dissolves. Fine-strain. Syrup will keep, refrigerated in a sealed container, for 2 to 3 weeks.
Makes 1 1/3 cups (340 mL)
SHARE