Rack of Pork with Herbs
Holiday 2008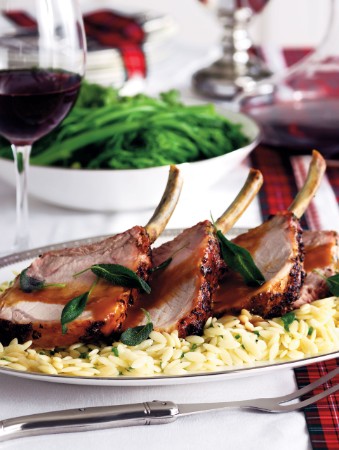 Rack of Pork with Herbs
Holiday 2008
BY: Lucy Waverman
A favourite in our test kitchen because the pork is so juicy. Serve this elegant meal with rapini and orzo, which you finish with a little cream and chives. You can omit the anchovies but they give a slight background to the sauce that you could never identify as anchovies.
4 chop pork rack, approx. 3 lb (1.5 kg)

Sage Paste
2 tbsp (25 mL) chopped fresh sage
1 tsp (5 mL) chopped fresh thyme
2 tbsp (25 mL) chopped parsley
2 tsp (10 mL) chopped garlic
1 tsp (5 mL) chopped anchovies
2 tsp (10 mL) cracked fennel seeds
1 tsp (5 mL) grated lemon rind
2 tbsp (25 mL) Dijon mustard
¼ cup (50 mL) olive oil
Salt and freshly ground pepper

Sauce
1 cup (250 mL) chicken stock (homemade or low-sodium)
1 tsp (5 mL) tomato paste

Fried Sage
1 tbsp (15 mL) vegetable oil
12 sage leaves
1. Preheat oven to 450ºF (230ºC).

2. Clean bones of pork rack. Place sage, thyme, parsley, garlic, anchovies, fennel, lemon rind, mustard and olive oil in food processor or mini chop and purée together to make a paste. Reserve 1 tbsp (15 mL) and spread remainder all over rack, including the bone side. Season pork with salt and pepper. Let sit for 30 minutes.

3. Place rack in a roasting pan and roast for 40 minutes, then turn heat to 400ºF (200ºC) and roast for another 25 minutes or until internal temperature of pork is about 145ºF (63ºC). Remove from pan and let rest. Drain fat from pan.

4. Place roasting pan on the stove over medium-high heat and add stock, tomato paste and reserved 1 tbsp (15 mL) spice mixture. Bring to boil, scraping up any brown bits from the bottom of the pan. Boil for 3 to 4 minutes or until slightly thickened and richly flavoured. Strain sauce and adjust seasoning to taste.

5. Heat oil in small skillet over medium heat and carefully add sage leaves (they will sputter and pop when added to oil). Fry for 45 seconds or until translucent and crisp and drain on paper towels. Carve rack into chops, serving 1 chop per person drizzled with sauce and garnished with fried sage leaves.
SHARE