Quinoa Risotto
Autumn 2010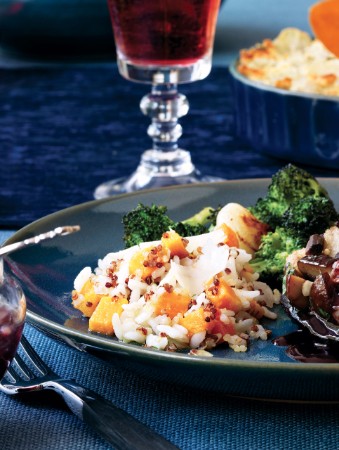 Quinoa Risotto
Autumn 2010
BY: Lucy Waverman
You can buy mixtures of several colours of quinoa, which gives this recipe a splash of colour. Quinoa contains more protein than any other grain, making it an essential part of a vegetarian diet. Using a mixture of risotto rice and quinoa makes a festive side dish for the mushrooms. This is not the traditional way of making risotto, but it works very well.
1 cup (250 mL) water
½ cup (125 mL) quinoa
1 tbsp (15 mL) olive oil
1 cup (250 mL) carnaloni rice
1 cup (250 mL) chopped onion
2 cups (500 mL) hot vegetable stock or water
2 cups (500 mL) roasted diced squash (see TIP)
Salt and freshly ground pepper
¼ cup (50 mL) grated Parmesan cheese
2 tbsp (25 mL) butter, cut into pieces
2 tbsp (25 mL) chopped parsley
1 tsp (5 mL) white truffle oil, optional

GARNISH
¼ cup (50 mL) Parmesan shavings
1. Place water in a small pot over high heat and bring to a boil. Add quinoa, cover, turn heat to low and simmer for 12 minutes or until water is absorbed and quinoa is tender. Remove from burner and set aside to steam, still covered, while preparing rice.

2. Heat oil in a wide heavy-bottom soup pot or Dutch oven over medium heat. Add rice and sauté until rice is becoming whiter and feels very hot to the touch, about 3 minutes. Add onion and sauté another 2 minutes or until softened.

3. Add vegetable stock, bring to boil, cover pan and reduce heat to low. Simmer for 12 to 14 minutes or until rice is al dente.

4. Add squash and quinoa along with another splash of stock if mixture seems dry. Stir until they are fully incorporated, about 2 minutes. Season to taste with salt and pepper.

5. Stir in Parmesan cheese, butter and parsley. Serve hot with a small drizzle of white truffle oil. Garnish with shaved Parmesan.

TIP:

To roast squash, toss diced squash with 2 tbsp (25 mL) olive oil, place on a baking sheet and roast at 400°F (200°C) for 15 to 18 minutes or until tender and golden, tossing once halfway through cooking.


SHARE