Pyrenean Sheep's Milk Cheese with Roasted Baby Beets, Balsamic Vinegar and Truffle Oil
Début de l'été 2002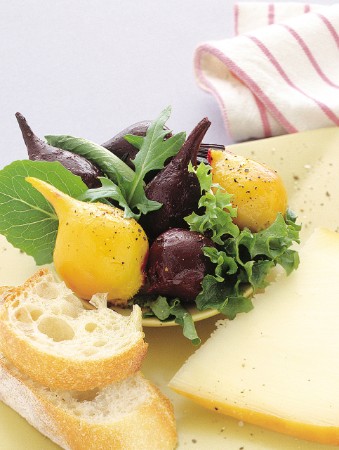 Pyrenean Sheep's Milk Cheese with Roasted Baby Beets, Balsamic Vinegar and Truffle Oil
Début de l'été 2002
BY: Lucy Waverman
If baby beets are unavailable, use larger beets and cut them into 2-inch (5-cm)
dice. Use orange or red beets or both. Serve with a Pyrenean sheep's-milk cheese or an aged chèvre.
1 lb (500 g) baby beets
2 tbsp (25 mL) olive oil
Salt and freshly ground pepper
1/4 cup (50 mL) water
2 tbsp (25 mL) aged balsamic
2 tbsp (25 mL) truffle oil
1. Preheat oven to 400°F (200°C).
2. Wash beets and trim. Toss beets with olive oil and place in baking dish. Season with salt and pepper. Add water and cover with foil. Bake 45 minutes to one hour or until beets are tender.
3. Remove from oven, peel and sprinkle immediately with balsamic. Cool. Just before serving sprinkle with truffle oil.
SHARE