Provençal Topping
Holiday 2003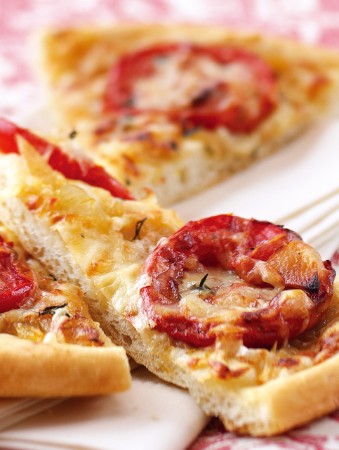 Provençal Topping
Holiday 2003
BY: Lucy Waverman
A typical provençal topping is made with onions and tomatoes. It is suggested that you roast the tomatoes for more flavour, and for a drier consistency.
4 plum tomatoes, halved and seeded
3 tbsp ( 45 mL) olive oil
2 cloves garlic, sliced
Salt and freshly ground pepper
2 large onions, thinly sliced
1 cup (250 mL) grated fontina
1/2 tsp (2 mL) dried thyme
1. Preheat oven to 325°F (160°C).
2. Toss tomatoes with 1 tbsp (15 mL) oil and place a slice of garlic in each half. Season with salt and pepper. Place skin-down on cookie sheet and bake for about 40 minutes or until shrivelled and brown on base but still holding their shape. Cool.
3. In a large skillet over medium heat add remaining 2 tbsp. (25 mL) oil. Add onions and salt them immediately. Saute for 3 minutes or until they are coated in oil. Turn heat to medium-low and continue to cook onions for 30 to 40 minutes or until they are golden and thickened. Season with salt and pepper.
4. Preheat oven to 500°F (250°C).
5. Place pizza dough on heavy cookie sheet (or use 2 stacked if they are light ones). Brush pizza with an extra 1 tsp (5 mL) olive oil. Spread onions over. Top with tomato halves. Sprinkle with cheese and season with salt, pepper and thyme.
6. Bake for 5 to 7 minutes or until cheese is melted and dough is golden.
SHARE