Provençal Pizza
Holiday 2003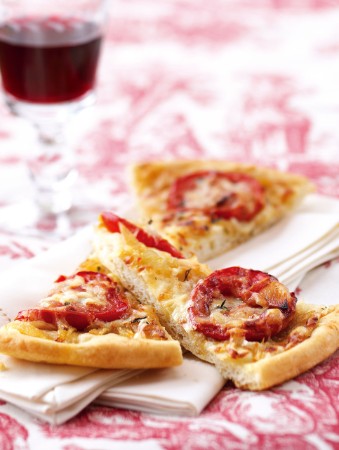 Provençal Pizza
Holiday 2003
BY: Lucy Waverman
This exceptionally light pizza dough is easy to make but if you are time-constrained buy a ready-made pizza base, add toppings and bake at 400°F (200°C) for 10 minutes or until cheese is melted. Use Gorgonzola instead of fontina if you like the taste. Although you can make the dough by hand, it is easier to use the food processor. Make the topping (recipe follows) while the dough is resting.
1/2 cup (125 mL) warm water
1 tsp (5 mL) dry active yeast
1/2 tsp (2 mL) granulated sugar
1 1/4 cups (300 mL) all-purpose flour
1/2 tsp (2 mL) salt
1. Mix together warm water, yeast and sugar in a large bowl. Let stand for 5 minutes or until frothy. In a food processor, combine flour with salt. With machine running pour the yeast mixture into the flour mixture and process until well combined. Continue to process for 2 minutes or until dough is slightly soft and sticky.
2. Remove from processor and knead on a well-floured board for about 2 minutes, adding more flour as needed or until dough is smooth and elastic.
3. Place in an oiled bowl in a warm place, cover and let sit until doubled in bulk, about 1 hour.
4. Punch down and roll out on a floured board into a 12-inch (30-cm) circle or spread dough with your fingers. It is more uneven but very easy to do.
Makes 1 12-inch (30-cm) pizza

Provençal Topping
A typical Provençal topping with onions and tomatoes. Because the tomatoes are not very good this time of year, roast them.

4 plum tomatoes, halved and seeded
3 tbsp ( 45 mL) olive oil
2 cloves garlic, sliced
Salt and freshly ground pepper
2 large onions, thinly sliced
1 cup (250 mL) grated fontina
1/2 tsp (2 mL) dried thyme
1. Preheat oven to 325°F (160°C).
2. Toss tomatoes with 1 tbsp (15 mL) oil and place a slice of garlic in each half. Season with salt and pepper. Place skin-down on cookie sheet and bake for about 40 minutes or until shrivelled and brown on base but still holding their shape. Cool.
3. In a large skillet over medium heat add remaining 2 tbsp (25 mL) oil. Add onions and salt them immediately. Sauté for 3 minutes or until they are coated in oil. Turn heat to medium-low and continue to cook onions for 30 to 40 minutes or until they are golden and thickened. Season with salt and pepper.
4. Preheat oven to 500°F (260°C).
5. Place pizza dough on heavy cookie sheet (or use 2 stacked if they are light ones). Brush pizza with an extra 1 tsp (5 mL) olive oil. Spread onions over. Top with tomato halves. Sprinkle with cheese and season with salt, pepper and thyme.
6. Bake for 5 to 7 minutes or until cheese is melted and dough is golden.
SHARE