Prosciutto-Wrapped Perch with Chunky Guacamole
Été 2017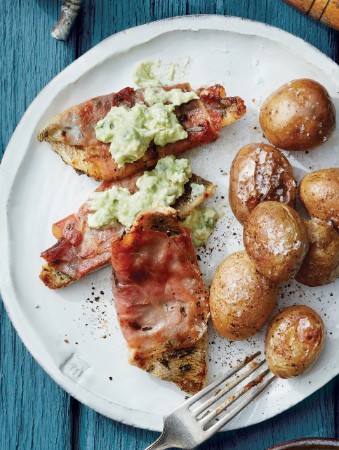 Prosciutto-Wrapped Perch with Chunky Guacamole
Été 2017
BY: Monda Rosenberg
Yellow perch are ideal for pan-frying because of their firm yet flaky flesh, and their delicate sweet flavour takes well to light seasonings. If you're lucky enough to hook a bass or two, their fillets also work beautifully in this recipe. The prosciutto adds a nice upscale wrapping, making them company-worthy.
1 large ripe Hass avocado, peeled and pitted
¼ cup (60 mL) plain Greek yogurt
1 large garlic clove, finely grated
1 tbsp (15 mL) finely chopped jalapeño
Salt
8 Ontario yellow perch fillets, about 8 oz (250 g) total
White pepper
1½ tsp (7 mL) dried tarragon, divided
8 thin slices prosciutto, about 4 oz (125 g)
2 tbsp (30 mL) butter
1. Place avocado, yogurt, garlic, jalapeño and a generous pinch of salt in a bowl. Using a fork, mash together until creamy but still chunky.

2. Generously sprinkle fish fillets with salt and white pepper. Using about 1 tsp (5 mL) tarragon, sprinkle over both sides of fillets. Wrap 1 slice of prosciutto around each fillet.

3. Melt butter in a large skillet over medium heat. Add fish and cook until prosciutto just starts to crisp, 2 to 3 minutes a side. Sprinkle remaining tarragon over fish and butter in pan, then spoon hot butter over fish. Remove to plates and spoon butter mixture overtop. Serve fish with chunky guacamole on top or alongside.
SHARE