Profiteroles with Caramel Sauce and Hedgehog Almond Praliné
Holiday 2008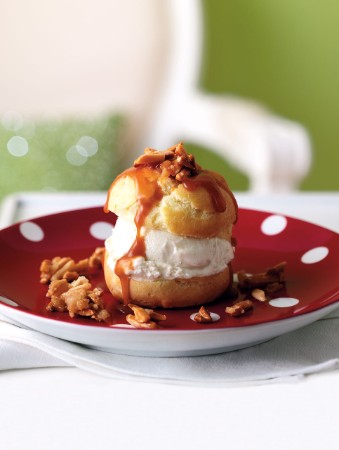 Profiteroles with Caramel Sauce and Hedgehog Almond Praliné
Holiday 2008
BY: Marilyn Bentz-Crowley
These really are grown-up sundaes! Golden shells are filled with a scoop of ice cream, drizzled with caramel sauce and garnished with crunchy almond clusters. While vanilla ice cream is delicious don't be limited by this flavour. Chocolate or coffee ice cream is a good choice too, as is hot fudge sauce. The dessert components are all made ahead
Profiteroles
1 cup (250 mL) water
½ cup (125 mL) unsalted butter (if using salted, omit salt)
1 tbsp (15 mL) granulated sugar
½ tsp (2 mL) salt
1 cup (250 mL) all-purpose flour
3 eggs
2 egg whites
2 qt (2 L) carton of natural vanilla ice cream

Caramel Sauce
½ cup (125 mL) water
2 cups (500 mL) granulated sugar
2 tbsp (25 mL) butter
1½ cups (375 mL) whipping cream
1 tsp (5 mL) pure vanilla extract

Hedgehog Praliné
3 cups (750 mL) slivered almonds
2 tbsp (25 mL) butter
1 cup (250 mL) granulated sugar
¼ tsp (1 mL) salt
1. To make profiteroles, preheat oven to 375ºF (190ºC).

2. Line a baking sheet with parchment paper or foil coated with nonstick spray. Bring water, butter, sugar and salt to a boil in a large saucepan over medium heat. Add flour; stir frequently for 5 minutes or until mixture easily forms a large ball. Turn ball into bowl of an electric mixer; break up and cool 15 minutes. Whisk eggs with whites until combined. With mixer running, slowly pour in eggs, continuing to mix until smooth.

3. Dollop 12 mounds of dough onto parchment paper about 1½ inches (4 cm) apart. With wet hands smooth and form any misshapes into a round heap. Bake in centre of preheated oven for 40 minutes or until top is richly golden. Turn off oven. Pierce side of each puff with a knife; return to oven for 15 minutes with oven door ajar.

4. Cool completely on a rack; cut each in half horizontally. Fill each with a scoop of ice cream and replace tops. It may not be necessary to use all the ice cream. Freeze on a tray; then transfer to freezer-weight plastic bags, excluding as much air as possible. Filled profiteroles freeze well for up to 3 days. (Uncut profiteroles can be frozen airtight for up to a month. Reheat from frozen in a 350ºF/180ºC oven for 10 to 12 minutes or until hot and crisp. Cool completely before filling.)

5. To make caramel sauce, measure water into a medium heavy-bottomed sauce pan. Add sugar and butter; do not stir! Measure out whipping cream, set near the stove along with vanilla. Place saucepan over medium-high heat and bring to a boil without stirring. Let bubble briskly for 8 to 11 minutes or until the sugar begins to change colour. Swirl pan gently on the unit until the colour becomes deeply golden. Avert your face (as hot steam rapidly rises) and near the side of the pan, pour in whipping cream. Stir with a long-handled wooden spoon until smooth, about 2 minutes. Slide pan off heat; stir in vanilla. Cool until lukewarm before pouring into a container; sauce thickens as it cools. Once cooled, cover and refrigerate for a week or more.

6. For praliné, line a cookie sheet with foil coated with baking spray or a piece of parchment. Heat a large heavy frying pan over medium heat for a minute or 2 or until just becoming hot. Add almonds. Stir constantly 2 minutes or until almonds are warmed. Stir in butter to coat almonds. Then stir in sugar mixed with salt. Continue stirring frequently and lifting with a metal spatula―and graduate to constant stirring near end of cooking time. This takes 12 to 15 minutes or until sugar melts and turns a rich caramel color. Remove from heat; turn out onto foil and immediately spread out almonds. (Caution: caramel mixture is extremely hot.) Cool and store in air tight container for a week or more.

7. To serve profiteroles, remove from freezer. Place on a large serving tray or individual bowls; let sit at room temperature for 10 minutes to temper before serving. Pour sauce into a pitcher or gravy boat with small ladle. Pile praliné into a serving dish; add a small pair of tongs. Guests drizzle profiteroles with caramel sauce and add praliné as desired.
SHARE