Potato Sourdough Bread
Winter 2012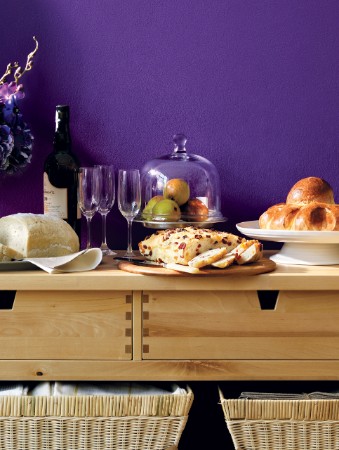 Potato Sourdough Bread
Winter 2012
BY: Marilyn Bentz-Crowley
Artisanal bakeries use sourdough starters extensively, some exclusively, in their breads. Our potato sourdough is not a crusty, tangy San Francisco sourdough, but an excellent potato loaf with a soft, slightly chewy crust and first-rate flavour. It is especially good with soup and stews—and makes very crisp toast. I have also used this recipe, from Chef Joanna Ward Malan, to make superb pizza dough, too.
48-HOUR STARTER (enough for 2 large loaves)

1 medium baking potato such as Idaho, about 6 oz (175 g)
1½ cups (375 mL) cold water, divided
1½ tsp (7 mL) instant or traditional yeast
1 cup (250 mL) all-purpose flour


SINGLE LARGE LOAF
1 tbsp (15 mL) yeast
1 tbsp (15 mL) sugar
1½ cups (375 mL) water, just warm to the touch
½ 48-hour starter mixture, about 1 cup (250 mL)
2 tsp (10 mL) salt 
3½ to 4½ cups (875 mL to 1.125 L) all-purpose flour
1 To make starter, peel and dice potato; add to small pot with 1 cup (250 mL) cold water. Bring to a boil, cover and simmer over low heat for 20 minutes or until potatoes are very soft. Pour in ½ cup (125 mL) cold tap water. Whirl in a blender or food processor until a thick liquid; cool to lukewarm. 

2 Turn potato liquid into a large steel or glass bowl; stir in 1½ tsp (7 mL) yeast (no need to "proof" this starter yeast) and flour. Cover bowl loosely with plastic wrap and a tea towel. Let stand at room temperature for 48 hours. Stir occasionally; starter is ready when it smells slightly sour and looks curdled. Starter amount is enough to make 2 large loaves. When ready, cover starter with plastic wrap and store in the refrigerator for up to 3 days, stirring occasionally, or divide into 2 portions, 1 to use now and another for the freezer. 

3 To make loaf, proof 1 tbsp (15 mL) yeast by stirring sugar into water and sprinkling yeast overtop, then setting aside for 5 minutes. Then stir to dissolve yeast completely. 

4 Meanwhile stir about 1 cup (250 mL) starter (half of the original mixture) with salt in a large mixing bowl or the bowl of a stand mixer with dough hook attached. Stir in 1 cup (250 mL) of flour; then proofed yeast mixture. Continue adding fl our until dough is becoming hard to stir. Then turn out onto a well-floured work surface. Or continue using stand mixer to knead dough.

5 Begin to knead dough, adding flour slowly as needed to have soft yet well-formed dough, from 5 to 10 minutes. All flour may not be needed. Turn into a large, generously oiled bowl; turn dough ball in bowl so all is coated with oil. Loosely cover with a piece of plastic wrap; let rise for 50 to 60 minutes or until doubled. (If making to bake later, cover well and chill for up to a day. While in the refrigerator, dough rises slowly; punch down occasionally.) 

6 Preheat oven to 375°F (190°C).

7 Turn dough out onto lightly floured work surface. Lift outer edges into middle while pressing down to burst large bubbles. Shape into a round ball. Place smooth-side up on parchment-lined baking sheet. Evenly press down until about 2 inches (5 cm) thick. Or,
for 2 medium loaves, divide dough in half and shape to fit 2 greased 9 x 5-inch (2-L) loaf pans.


8 Generously coat top with flour; loosely cover with plastic wrap. Let rise for 30 to 40 minutes or until dough has doubled. (Refrigerated dough takes approximately 1½ hours to rise.)

9 Remove plastic wrap. Using a serrated knife gently placed on top of loaf, draw knife at an angle along top to shallowly slice a pattern of 3 or 4 slashes.

10 Bake round or loaf pans in centre of preheated oven for 30 to 35 minutes or until quite golden and smell of baking bread is very evident. A tap on loaf bottom sounds hollow. Cool on a rack without pan. Bread is best on the day it is made. Day-old bread is delicious in Tuscan Tomato Bread Soup (recipe follows).

Makes 1 large round loaf or 2 medium rectangular loaves.
TUSCAN TOMATO BREAD SOUP
This comforting Italian soup captures the essence of summers past. The only indulgence is a few fresh herbs grown in climes currently sunny and warm, however, a generous spoonful of pesto can substitute for the fresh herbs. Tuscan Pecorino Romano is a sheep's-milk cheese that is much like, but distinct in taste from, Parmesan. Leave the crust on bread cubes for added interest.

1 small onion, diced
2 large garlic cloves, minced
2 tbsp (30 mL) olive oil
1 can (946 mL) diced tomatoes
2 to 2½ cups (500 to 625 mL) chicken broth
2 cups (500 mL) stale or toasted
Potato Sourdough Bread cubes, about ¾-inch (2-cm) square
1 large sprig fresh thyme
½ tsp (2 mL) salt
⅛ to ¼ tsp (0.5 to 1 mL) hot chili flakes
3 to 4 tbsp (45 to 60 mL) chopped fresh herbs
such as basil and parsley
4 to 6 tbsp (60 to 90 mL) freshly grated
Pecorino Romano cheese
1 Using a large saucepan, sauté onion and garlic in oil over medium heat until softened, about 5 minutes. Stir in tomatoes and 2 cups (500 mL) broth. Add bread and thyme; stir in salt and chili flakes.

2 Bring to a boil; reduce heat so mixture just simmers, uncovered. Cook 30 to 40 minutes over medium to medium-low heat to reduce slightly. Most of bread breaks down, leaving some small dumpling-like pieces still visible. Remove thyme sprig.

3 Taste; if very thick, add remaining ½ cup (125 mL) chicken stock. Stir most of chopped herbs into soup. Toss remaining herbs with cheese. Ladle hot soup into warmed bowls; generously garnish with cheese mixture.
SHARE