Pork Finished with a Shower of Clams
Hiver 2006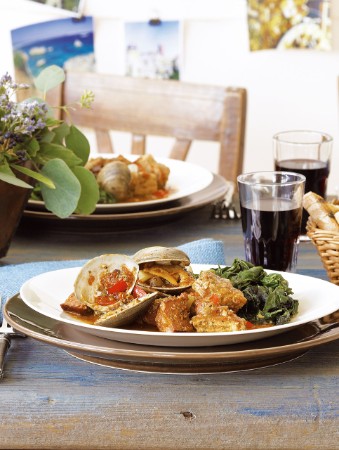 Pork Finished with a Shower of Clams
Hiver 2006
BY: Lucy Waverman
Pork with clams is another Portuguese staple. This dish is a more upmarket rendering than others. We used pork loin (try to get the end piece as it has a bit more fat). We sautéed it for a few minutes, made a deep, rich sauce and finished everything by steaming pasta clams in the sauce. If pasta clams (small ones) are not easily obtainable substitute the larger ones. They take longer to open.
1 head of garlic, separated into cloves
2 tbsp (25 mL)  chopped coriander
¼ cup (50 mL)  chopped parsley
½ cup (125 mL) olive oil
Sea salt and freshly ground pepper
1½ lbs (750 g)  pork loin, cubed
½ cup (125 mL) chopped chorizo (½-inch/1-cm dice)
1 cup (250 mL) diced onion
½ cup (125 mL) diced celery
1 diced red pepper
1 tsp (5 mL) dried chili flakes
½ cup (125 mL) dry white wine
1 cup (250 mL) canned chopped tomatoes
2 lbs (1 kg) fresh clams
1. Place garlic cloves in a small pot, bring to boil and simmer for 10 minutes or until garlic is very soft. Drain. Peel garlic and reserve.

2. Combine garlic, 1 tbsp (15 mL) coriander, 2 tbsp (25 mL) parsley, ¼ cup (50 mL) olive oil and sea salt and pepper to taste in a food processor and purée until smooth.

3. Toss pork with garlic paste and marinate for at least 2 hours or overnight in the refrigerator. Scrape marinade from pork and reserve.

4. Heat remaining olive oil over high heat in a large sauté pan. Working in batches, add pork and sear on all sides, about 5 minutes total. Remove from pan.

5. Reduce heat to medium and add chorizo, onion, celery, red pepper, chili flakes and reserved marinade. Fry, stirring, for 10 minutes or until very soft and slightly browned.

6. Add white wine and chopped tomatoes and bring to boil. Reduce heat and simmer for 5 minutes or until wine has reduced and mixture is saucy.

7. Raise heat to medium-high and add clams. Cover again and cook for 2 minutes or until clams are open. Add pork, recover and cook for 1 to 2 minutes more or until clams are opened and pork is warmed through.

8. Discard any clams that haven't opened. Mix in remaining parsley and coriander and serve with Spicy Greens and Grilled Corn Bread.

Grilled Corn Bread
6 thick slices Portuguese corn bread
1/3 cup (75 mL) olive oil
1 clove garlic
1. Brush slices of cornbread with olive oil. Heat a barbecue or grill pan on high heat. Grill bread for 1 to 2 minutes a side or until bread is crisped and marked by the grill. Remove from heat.

2. Cut garlic clove in half and rub over toasted slices of bread.
Spicy Greens
2 tbsp (25 mL) olive oil
1 tbsp (15 mL) chopped fresh garlic
¼ tsp (1 mL) chili flakes
6 cups (1.5 L) Swiss chard leaves, cleaned
6 cups (1.5 L) spinach, cleaned
¼ cup (50 mL) water
1. Heat oil in a skillet on medium heat. Add garlic and chili flakes and sauté for 1 minute. Add Swiss chard and cook for 1 minute. Add spinach and cook for 1 minute more.

2. Add water and simmer for 2 minutes or until chard ribs are tender and water has evaporated.
SHARE