Pork `N Beans Chili Mole
Winter 2008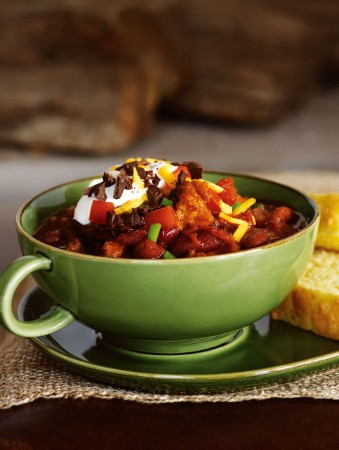 Pork `N Beans Chili Mole
Winter 2008
BY: Marilyn Bentz-Crowley
Don't bother pre-soaking the beans as they tenderize just fine in 1 pot while the pork braises in another. Control spicy heat by your choice of salsa. Chocolate adds glossy dark richness to the chili and considerably enhances aroma and flavor―tasting wonderful and not at all weird. Small Mexican red beans can be purchased at health food or specialty stores.
2 cups (500 mL) dried small Mexican red beans or kidney beans
2¼ to 3 lbs (1.125 to 1.5 kg) boneless pork loin or shoulder
3 tbsp (45 mL) peanut or canola oil
2 cups (500 mL) chopped onion
2 large cloves garlic, minced
3 tbsp (45 mL) chili powder
1 tsp (5 mL) cumin, freshly crushed seed or ground
One 796 mL can diced tomatoes
1 cup (250 mL) beef or chicken broth
1 jar (650 to 675 mL) medium, mild or hot salsa
3 cups (750 mL) sliced fresh mushrooms, about ¾ lb (375 g)
½ cup (125 mL) chopped parsley or fresh coriander or mixture of both
1 oz (30 g) unsweetened chocolate
½ tsp (2 mL) salt

Garnish
4 cups (1 L) grated medium cheddar
One 500 mL tub sour cream, about 2 cups
5 to 6 large fresh plum tomatoes, seeded and diced
1 bunch green onions, thinly sliced
Cornbread (recipe follows) or tortilla chips
1. Pick over beans, place in a sieve, wash under cold running water and turn into a large saucepan. Generously cover with cold water so level is about 3-inches (8-cm) above the beans. Bring to a boil; reduce heat, cover and simmer for 1½ to 2 hours. Check periodically for tenderness to the bite; add more boiling water if needed. Drain when tender.

2. Cube pork into pieces about ½-inch (1-cm) square. Heat 1 tbsp (15 mL) oil in a large soup pot over medium-high heat until hot. Working in batches, add a third of pork cubes. Let sit for a minute or 2 before stirring. Then stir and lightly brown. Remove to a bowl; Add more oil to pot as needed. Repeat until all pork is lightly browned and in bowl.

3. Add onion, garlic and spice to pot; stir and cook 4 to 5 minutes or until onion is softened. Stir in diced tomatoes, including liquid, broth and salsa. Return pork to pot. Bring to a boil, stirring frequently. Reduce heat, partially cover and simmer 1½ hours, stirring occasionally. Test for pork tenderness by removing a piece to a plate; if it pulls apart easily, it is done. Otherwise continue simmering until tender. Then stir in drained beans; simmer 30 minutes. (Chili is best if covered and refrigerated for 1 to 3 days. Or portion into containers, seal and freeze for up to a month.)

4. To serve, stir in mushrooms, fresh herbs and chocolate into hot chili. Taste; add salt if needed. If chili seems too thick, thin with boiling water as needed. Serve in warmed bowls topped with a handful of cheese. Pass sour cream, diced fresh tomatoes, sliced green onions and cornbread or tortilla chips.

Cornbread
1 1/2 cups (375 mL) buttermilk
1 egg
¼ to ⅓ cup (50 to 75 mL) granulated sugar
1 cup (250 mL) frozen corn kernels
1 cup (250 mL) fine cornmeal
1½ cups (375 mL) all-purpose flour
2 tsp (10 mL) baking powder
½ tsp (2 mL) baking soda
¾ tsp (4 mL) salt
⅓ cup (75 mL) melted butter
1. Whirl buttermilk, egg, sugar and corn kernels in a blender until almost smooth. Measure cornmeal into a medium bowl; stir in buttermilk mixture. Let soak while proceeding.

2. Line an 8 x 8-inch (20 x 20-cm) baking pan with foil; coat with nonstick spray or lightly butter.

3. Preheat oven to 400°F (200°C).

4. Stir flour with baking powder, baking soda and salt. Make a well; pour in wet mixture. Stir slightly, just wetting some of flour mixture. Pour in melted butter mixture; stir until all flour mixture is moistened. Batter is thick and not smooth. Turn into prepared pan; roughly level top.

5. Bake in centre of oven for 25 to 30 minutes or until lightly browned. Cool on a cooling rack for 5 minutes; then lift out of pan using foil edges. Loosen sides and peel off foil; finish cooling cornbread on rack. Serve warm or at room temperature, cut into squares. (Cornbread is best on day it is made. Or freeze airtight in a heavy freezer bag for up to a month; warm before serving.)

Tip: A double recipe fits into a 9 x 13-inch (23 x 29-cm) baking pan and needs 35 to 40 minutes in the oven.
SHARE