Poached Salmon with Spring Vegetables
Printemps 2010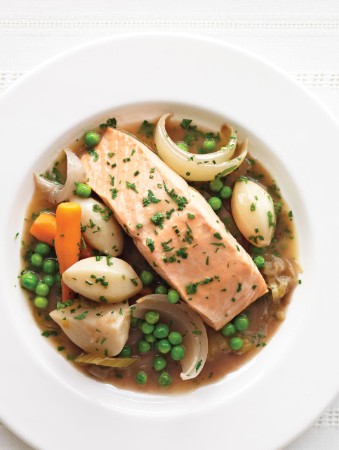 Poached Salmon with Spring Vegetables
Printemps 2010
BY: Nicole Young
Poaching salmon is a classic technique that keeps it moist and delicate. Use the leftover poaching liquid to make a simple spring soup.
2 cups (500 mL) fish stock (or water)
2 cups (500 mL) water
2 cups (500 mL) rosé wine
1 onion, peeled and cut into wedges
1 cup (250 mL) sliced leeks, white and light green parts only
2 stalks celery, trimmed and sliced
½ fennel bulb, sliced
6 sprigs flat-leaf parsley
2 bay leaves
2 sprigs thyme
1 tsp (5 mL) black peppercorns
1 tsp (5 mL) sea salt
1 lb (500 g) small new potatoes, peeled
1 bunch spring carrots, trimmed and peeled
2 small white turnips, peeled and quartered
6 salmon fillets (about 6 oz/175 g each)
½ cup (125 mL) cold butter, cubed
1 tbsp (15 mL) each fresh chopped flat-leaf parsley and chives
1. In a shallow Dutch oven or large deep skillet, combine fish stock, water, wine, onion, leeks, celery, fennel, parsley, bay leaves, thyme, peppercorns and sea salt; bring to boil over medium-high heat. Reduce heat, cover and simmer for 20 minutes.

2. Add potatoes, carrots and turnips and cook until tender, about 15 to 20 minutes. Use a slotted spoon and transfer vegetables to a platter. Discard herbs if desired. Add salmon to liquid and cook just until opaque, about 3 to 5 minutes. Use slotted spatula to gently remove fish and transfer to platter over vegetables. Keep warm.

3. Strain cooking liquid, reserving 2 cups (500 mL). Save remaining liquid for another use. Transfer reserved liquid to saucepan and cook over medium-high heat until the liquid has reduced by half, about 10 minutes. Whisk in cold butter, 1 cube at a time, until thickened slightly. Sprinkle in parsley and chives. Serve over poached salmon and vegetables with fresh spring peas.
SHARE