Poached Peaches with Bay-Scented Crème Anglaise
Début de l'été 2002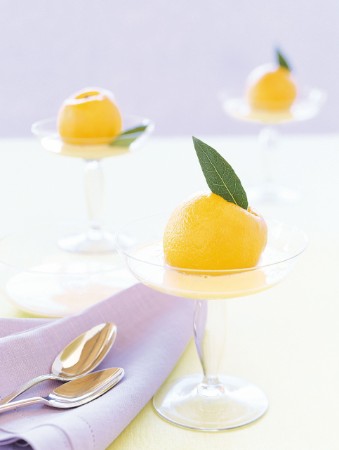 Poached Peaches with Bay-Scented Crème Anglaise
Début de l'été 2002
BY: Marilyn Bentz-Crowley and Joan Mackie
In the early days of the last century, it was common to flavour sweet sauces with bay leaves. In this revival, their slightly spicy taste plays off sweet wine-poached peaches. Look for small bay tree plants for sale in garden centres - treat as an annual plant or bring indoors for the winter.
6 large peaches
2 tbsp (25 mL) lemon juice
2 cups (500 mL) water
1 cup (250 mL) white wine
1½ cups (275 mL) granulated sugar
1 small fresh bay leaf

Garnish
Bay-Scented Crème Anglaise Sauce (recipe follows)
12 small fresh bay leaves
1. Set peaches and lemon juice in a large bowl. Pour enough boiling water over to cover. Let sit for 2 minutes to loosen skins. Then drain, slip off skins but leave peaches whole. Place peaches in a bowl, add cold water to cover, to prevent discoloring.

2. Combine 2 cups (500 mL) water, wine and sugar in a large saucepan set over medium heat. Bring to a boil. Drain peaches, discarding lemon water, and add to hot wine mixture along with bay leaf. Cover, reduce heat and simmer 10 to 15 minutes or until peaches are tender but not soft. Test after 10 minutes by piercing with a small skewer. (The riper the peaches, the less time required to cook.)

3. Remove pan from the heat, discard bay leaf and cool peaches in liquid. Cover with plastic wrap if not using immediately. Can be prepared 12 hours ahead and stored, covered, in the refrigerator. Return to room temperature before serving.

4. To serve, place a puddle of Crème Anglaise on each plate. Set one drained peach atop and garnish with two small bay leaves.

Bay-Scented Crème Anglaise Sauce
2 cups (500 mL) homogenized whole milk
2 large bay leaves
1 small vanilla bean, split, or 1 tsp (5 mL) pure vanilla extract
6 egg yolks
½ cup (125 mL) granulated sugar
1. Heat milk, one bay leaf and vanilla bean or extract in a large saucepan over medium heat, stirring occasionally, until hot but not boiling. Remove and discard bay leaf and vanilla bean, if using.

2. Place egg yolks and sugar in a bowl. Beat with an electric mixer 1 to 2 minutes or until the mixture becomes pale yellow and forms a ribbon when the beater is lifted. Gradually add hot milk, beating constantly on low. Return mixture to saucepan. Add remaining bay leaf. Cook over low-to-medium heat, stirring constantly with wooden spoon, 8 to 10 minutes or until mixture thickens enough to coat spoon. Do not let mixture boil. (If preferred, cook the sauce in the top of a double boiler set over, but not touching, simmering water.)

3. Remove from heat and pour sauce through a fine sieve into a clean bowl. Cover with plastic wrap, then chill until ready to serve, up to two days ahead.
SHARE