Poached Eggs on Spinach & Polenta
Printemps 2010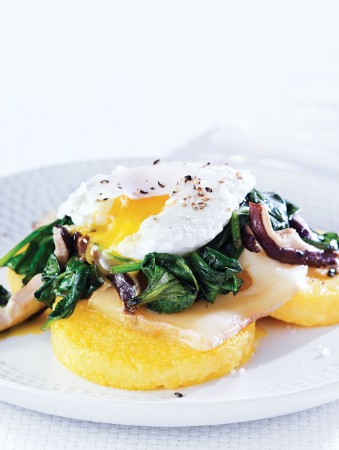 Poached Eggs on Spinach & Polenta
Printemps 2010
BY: Heather Trim
This is ideal for a light dinner served with roasted tomatoes or peppers. Save yourself time and purchase the tubes of polenta in the deli or pasta section of the supermarket. Creamy Taleggio is available in better cheese shops or Italian supermarkets.
1 tube store-bought polenta (500 g)
1 tbsp (15 mL) white vinegar
2 tbsp (25 mL) olive oil
2 cups (500 mL) sliced shiitake mushrooms, about 4 oz (125 g)
10 cups (2.5 L) baby spinach, 1 pkg (142 g)
Salt and pepper
4 eggs
4 thin slices Taleggio or grated Parmesan cheese
1. Preheat oven to 300°F (150°C).

2. Unwrap polenta and slice into twelve ½-inch (1-cm) slices (if you bought the 1 kg tube, wrap and freeze half, then slice remaining half into 8 slices). Fill a wide saucepan with 2 inches (5 cm) water. Add vinegar and set over high heat. Bring water just to a simmer.

3. Heat half the oil in a large nonstick frying pan over medium-high heat. Add polenta in 2 batches and cook until crispy on the outside and hot in centre, 2 to 3 minutes a side. Place on a tray and keep warm in oven. Set frying pan over medium heat and add remaining oil. Add shiitakes and sauté until tender, about 2 minutes. Add spinach and 1 tbsp (15 mL) water. Stir continuously until wilted, about 1½ minutes. Season with salt and pepper. Turn heat to very low to keep warm.

4. Crack an egg into a small dish. Then slip into the barely simmering water. Repeat with remaining eggs. Poach eggs until yolk is set but still runny, about 3 minutes. Remove with a slotted spoon. Pat dry.

5. To serve, place 3 rounds of polenta on each plate. Top with cheese, then spinach and poached egg. Sprinkle with salt and pepper.
SHARE