Pistachio Plum Shortbread
Automne 2017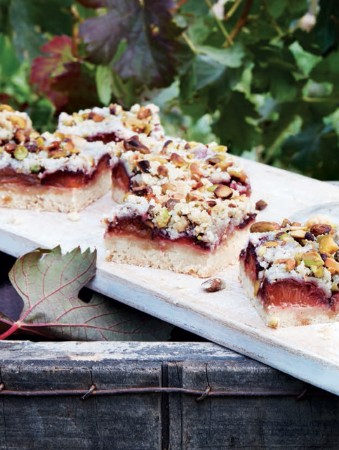 Pistachio Plum Shortbread
Automne 2017
BY: Lucy Waverman
Small blue plums work best for this recipe. If you use large ones, cut them in quarters. The shortbread is truly Scottish and suitably crumbly and the plums and pistachios work so well together. This can be made with peaches or apricots earlier in the season. You can omit the pistachios, if desired.
2½ cups (625 mL) flour
½ cup (125 mL) cornstarch
½ cup (125 mL) granulated sugar
1 tsp (5 mL) salt
1 tsp (5 mL) cardamom
1½ cups (375 mL) or 12 oz (375 g) cold unsalted butter, cubed
1½ lbs (750 g) blue plums
½ cup (125 mL) brown sugar
2 tsp (10 mL) grated lime zest
½ cup (125 mL) chopped pistachios
1. Preheat the oven to 350°F (180°C). Line a 9 x 13-inch (23 x 33-cm) pan with parchment paper on the base and up the sides.

2. Mix together flour, cornstarch, granulated sugar, salt and cardamom in a food processor or by hand until well blended. Add the butter and process until mixture looks like fine bread crumbs. Place 1½ cups (375 mL) of mixture in a bowl and reserve for topping. In a separate bowl, using your fingertips, knead dough together gently until it looks flaky but has not come together completely. Firmly press into prepared pan. Use the bottom of a metal measuring cup to smooth out dough. Prick all over with a fork. Bake for 20 to 25 minutes or until shortbread is golden around the edges.

3. Cut plums in half lengthwise. Remove any pits and stems. Toss gently with brown sugar and lime zest. Arrange plums on pastry crust skin-side up. Add pistachios to reserved shortbread mixture and gently combine. Sprinkle on top of fruit.

4. Bake for 30 to 40 minutes or until fruit is bubbling in centre and crumble is golden. Remove from oven and cool in pan on a wire rack until room temperature. Chill. Lift from pan and cut into squares.
SHARE