Pine-Shoot Honey
Début de l'été 2016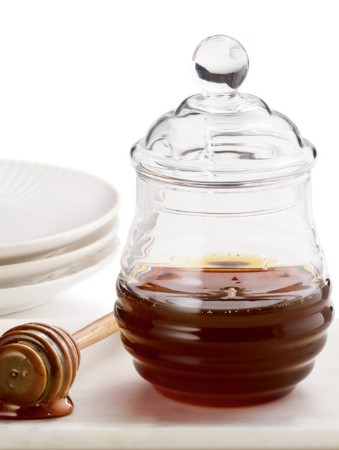 Pine-Shoot Honey
Début de l'été 2016
BY: Michael Stadtländer
Infusing honey is a great way of integrating new flavours into a recipe. The shoots are the new growth found on the white pine tree in late May and early June. If you can't get pine shoots, you can use fresh pine needles to get a similar flavour (recipe follows).

PINE-NEEDLE HONEY

BY ESHUN MOTT

If pine shoots are out of season, here's a similarly flavoured honey that instead uses fresh pine needles—which are much easier to find. This recipe produces an equally suitable ingredient for the Pine-Nut Tarts (recipe follows).

1/3 cup (80 mL) fresh unsprayed pine needles (white pine, white cedar, Balsam fir or white spruce)
1½ cups (375 mL) water
½ cup (125 mL) wildflower honey
1 Add pine needles to water and simmer on low for 30 minutes.

2 Strain to remove needles, return liquid to pot, and simmer for 6 to 8 minutes watching carefully, until reduced to just less than 1 tbsp (15 mL) of very concentrated flavoured red liquid.

3 Immediately add wildflower honey, remove from heat, and stir until well incorporated.
Makes ½ cup (125 mL) pine honey; amount needed to make the Pine Nut Tarts
SHARE