Peri Peri Roast Chicken
Début de l'été 2017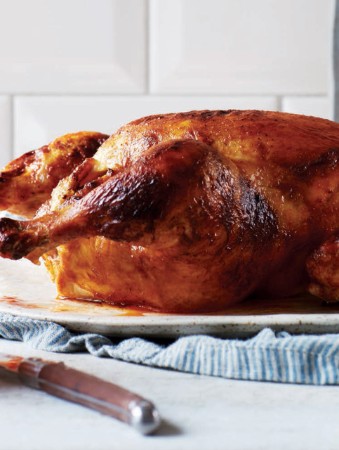 Peri Peri Roast Chicken
Début de l'été 2017
BY: Amy Rosen
The quintessential Canadian takeout chicken isn't barbecued and it isn't fried—it's rotisserie peri peri, thanks to the fact that so many Portuguese settled on Canadian shores. A supermarket rotisserie chicken is a terrific mid-week meal saver but now you can do it one better by making it yourself, whipping up homemade peri peri sauce and popping a chicken in the oven. The house will smell amazing!
PERI PERI SAUCE
1 jar (340 mL) roasted red peppers, drained and roughly chopped
½ red onion, chopped
2 garlic cloves, chopped
½ cup (125 mL) lemon juice, about 3 lemons
½ cup (125 mL) red wine vinegar, divided
1 habanero pepper, stemmed, seeded and chopped
1 tsp (5 mL) smoked paprika
1 tsp (5 mL) sweet paprika
2 tsp (10 mL) dried oregano
1 tsp (5 mL) kosher salt
Zest of 1 lemon
¼ cup (60 mL) extra virgin olive oil

ROAST CHICKEN
1 roasting chicken, about 3 lbs (1.5 kg)
2 tbsp (30 mL) olive oil
1 tsp (5 mL) kosher salt
Freshly cracked pepper to taste
1. To a blender or a food processor, add roasted peppers, onion, garlic, lemon juice, ¼ cup (60 mL) red wine vinegar, habanero, smoked and sweet paprika, oregano and salt. Purée until smooth. Transfer to a medium saucepan, and simmer over low heat, uncovered, for 20 minutes, stirring often.

2. Stir in lemon zest and remaining ¼ cup (60 mL) of red wine vinegar. Let the sauce cool for 10 minutes then add to the rinsed-out blender. Covering the spout of the blender or processer with a tea towel, place machine on low speed and drizzle in ¼ cup (60 mL) olive oil until sauce emulsifies. Taste for seasoning and add more salt if necessary.

3. Preheat oven to 450°F (230°C).

4. Pat chicken dry and rub with 2 tbsp (25 mL) oil. Sprinkle with salt and pepper.

5. Place the chicken on a wire rack over a roasting pan, breast-side up, tucking in legs and wings. Pop into the preheated oven and roast, uncovered, for 30 minutes.

6. Reduce heat to 350°F (180°C).

7. Brush chicken generously with homemade peri peri sauce. Roast for 30 minutes more, adding more sauce after 20 minutes. General rule of thumb is about 1 hour of cooking for a 3-lb (1.5 kg) chicken and an extra 10 minutes for each additional pound. A thermometer stuck into the meaty part of a leg (without touching the bone) should register at 170°F (77°C), the joints should feel loose and the juices should run clear. If this is all happening, remove chicken from pan and set aside on a cutting board, tented with tinfoil for 10 minutes.

8. Carve chicken and serve with a sauceboat of the remaining peri peri sauce, roasted potatoes or french fries and a crisp green salad.
Serves 4, with 2 cups (500 mL) peri peri sauce
SHARE