Peppered Tuna with Olive Salsa
Hiver 2015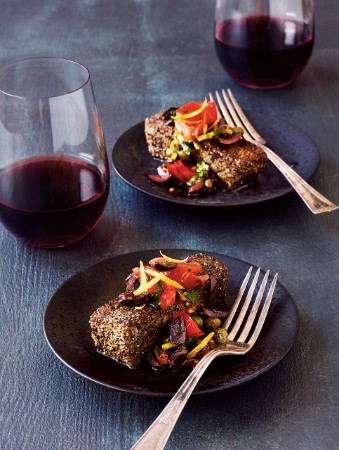 Peppered Tuna with Olive Salsa
Hiver 2015
BY: Lucy Waverman
This dish can be served hot or at room temperature.The olive salsa with the tuna is a perfect fit for the Pinotage.
OLIVE SALSA
2 cups (500 mL) cherry tomatoes
¼ cup (60 mL) olive oil
1 cup (250 mL) Niçoise or other black olives, pitted and quartered
2 tbsp (30 mL) capers
¼ cup (60 mL) chopped flat-leaf parsley
2 tsp (10 mL) lemon rind
Salt and freshly ground pepper
1½ lbs (750 g) sushi grade tuna, at least 1 inch (2.5 cm) thick
Salt
3 tbsp (45 mL) finely ground black pepper
1 tbsp (15 mL) vegetable oil
1 Preheat oven to 450°F (230°C). Toss cherry tomatoes with 1 tbsp (15 mL) olive oil and place on a baking sheet. Bake for 5 to 7 minutes or until tomatoes burst. Remove from oven.

2 Coarsley chop tomatoes and combine with remaining olive oil, olives, capers, parsley and lemon rind in a medium bowl. Season with salt and pepper.

3 Slice tuna into four 2½ x 1-inch (6 x 2.5-cm) rectangles. Season with salt and let sit for 10 minutes. Roll each loin in pepper, coating all sides.

4 Heat oil in a frying pan over high heat. Add 2 pieces of tuna and cook for 2 minutes on each side for very rare. Cook for 3 minutes on each side for less rare. Transfer to a plate and reserve. Repeat with remaining pieces of tuna. Serve tuna with olive salsa.
Serves 4 as a main, or 6 as an appetizer
SHARE