Penne with Chickpeas, Spinach and Roasted Asparagus
Début de l'été 2006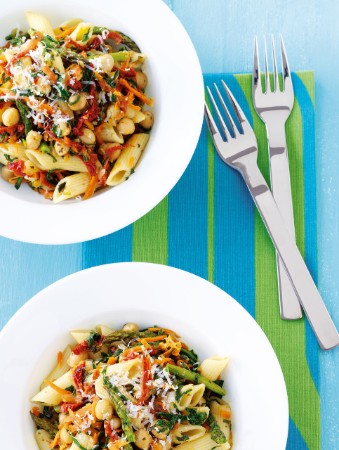 Penne with Chickpeas, Spinach and Roasted Asparagus
Début de l'été 2006
BY: Nettie Cronish
Unlike the ordinary supermarket variety, organic chickpeas (sometimes labeled garbanzo beans) are canned with no salt allowing the cook more freedom to season to taste. Terrific hot, this pasta is also delicious served cold in a pita lined with salad greens. Rotini, gemelli or other similarly shaped pasta can be substituted if you wish.
12 oz (375 g) penne, about 4 cups (1L)
10 stalks roasted fresh asparagus, woody ends snapped-off
3 tbsp (45 mL) extra virgin olive oil, divided
Pinches salt and freshly ground pepper
2 large cloves garlic, finely minced
One medium onion, finely chopped
2 medium carrots, finely shredded
½ cup (125 mL) finely chopped fresh basil
½ tsp (2 mL) sea salt
½ cup (125 mL) thinly sliced sun-dried tomatoes
One 19 oz (540 mL) can organic chickpeas, drained,
about 1½ cups (375 mL)
1½ cups (375 mL) lightly packed baby spinach leaves,
washed, thinly sliced
1 cup (250 mL) vegetable stock or water
¼ tsp (1 mL) freshly ground black pepper
½ cup (125 mL) grated Parmesan cheese
1. Bring large pot of salted water to a boil. Add pasta; boil uncovered for 10 to 12 minutes or until al dente. Drain; set aside.

2. Preheat oven to 450ºF (230ºC).

3. Cut asparagus into 1-inch (2.5-cm) lengths. Toss with 1 tbsp (15 mL) oil and pinches of salt and pepper. Spread out on a baking sheet; roast for 8 minutes or until asparagus is tender crisp and slightly browned.

4. Heat remaining oil in a large skillet over medium heat. Add garlic and, stirring frequently, sauté for 30 seconds. Stir in onions; sauté for 2 minutes or until softened. Add carrots, basil and salt; cook, stirring frequently for 3 minutes. Stir in sun-dried tomatoes, chickpeas, spinach and stock. Bring just to a boil, lower heat and simmer for 5 minutes or until vegetables are tender.

5. Toss hot pasta with cooked vegetables; stir in pepper and Parmesan cheese. Taste and add additional salt and pepper as needed. Add roasted asparagus; toss well. Serve in warmed pasta bowls sprinkled with additional Parmesan cheese.
SHARE