Peanut Butter and Chocolate Fondue
Hiver 2005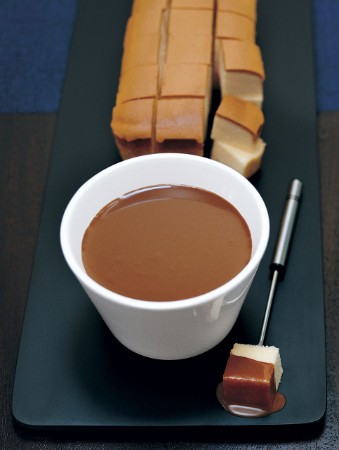 Peanut Butter and Chocolate Fondue
Hiver 2005
BY: Emily Richards
Whoever said these two ingredients should be together was absolutely right! Creamy milk chocolate and smooth peanut butter are the perfect liquid for dipping your favourite fruit or pound cake. Any leftover fondue can be refrigerated and reheated over a low heat for a second fondue session.
8 oz (250 g) milk chocolate, chopped
½ cup (125 mL) smooth peanut butter
1½ cups (375 mL) whipping cream
1 tsp (5 mL) vanilla essence
4 cups (1 L) strawberries
2 bananas, cut in chunks
One 298 g pound cake, cubed
1. Place chocolate and peanut butter into fondue pot.

2. In small saucepan bring cream to boil over medium-high heat. Pour cream over chocolate and peanut butter; add vanilla. Let stand for 30 seconds. Whisk until smooth.

3. Serve with fruit and cake.
SHARE