Peach Sangria
Summer 2004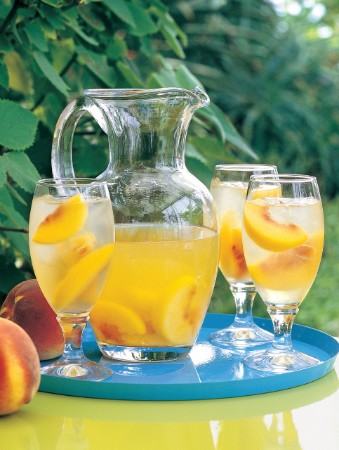 Peach Sangria
Summer 2004
BY: James Chatto
I love the taste of fresh, ripe Ontario peaches, running with sweet juice. Capturing their fragrance in an easy-going summer pitcher drink became a minor obsession a couple of years ago and this recipe is the result. Steeping the peaches in the brandy and schnapps draws out the best of the fruit but leaves them too soggy to be presentable. A third peach could be held back and sliced to make a pristine garnish for the glasses.

The first time I made this drink, I used a bottle of Henry of Pelham Vidal VQA (LCBO 252841), hoping the fresh fruit would bring out a latent peachiness in the wine. It was impossible to tell if that had happened, but the results met with approval from friends and family. If you prefer a sweeter version, use white Zinfandel instead. Perrier's big aggressive bubbles are undaunted by the weight of the drink; good old club soda works equally well. A little splash is all you need.
2 ripe peaches, peeled and sliced
1/2 cup peach schnapps
1/2 cup brandy
4 tbsp freshly squeezed lemon juice
1 bottle chilled dry white wine
Perrier water
1. Slice the peaches thinly into the pitcher, together with any juice that escapes.

2. Add the schnapps, brandy and lemon juice and chill overnight.

3. Before serving, remove and eat the exhausted peaches (if desired) and stir in the wine.

4. Pour into tumblers already charged with two ice cubes and a slice of fresh peach. Add a little Perrier if you're thirsty.


SHARE